Pathologies of Love: Medicine and the Woman Question in Early Modern France (Women and Gender in the Early Modern World) (Hardcover)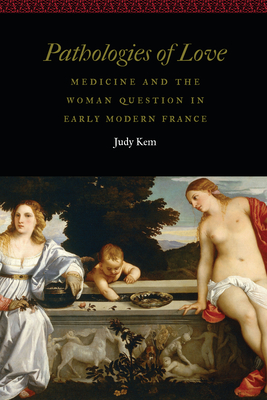 $60.00

usually available in 3-5 business days
Description
---
Pathologies of Love examines the role of medicine in the debate on women, known as the querelle des femmes, in early modern France. Questions concerning women's physical makeup and its psychological and moral consequences played an integral role in the querelle. This debate on the status of women and their role in society began in the fifteenth century and continued through the sixteenth and, as many critics would say, well beyond. In querelle works early modern medicine, women's sexual difference, literary reception, and gendered language often merge. Literary authors perpetuated medical ideas such as the notion of allegedly fatal lovesickness, and physicians published works that included disquisitions on the moral nature of women.

In Pathologies of Love, Judy Kem looks at the writings of Christine de Pizan, Jean Molinet, Symphorien Champier, Jean Lemaire de Belges, and Marguerite de Navarre, examining the role of received medical ideas in the querelle des femmes. She reconstructs how these authors interpreted the traditional courtly understanding of women's pity or mercy on a dying lover, their understanding of contemporary debates about women's supposed sexual insatiability and its biological effects on men's lives and fertility, and how erotomania or erotic melancholy was understood as a fatal illness. While the two women who frame this study defended women and based much of what they wrote on personal experience, the three men appealed to male authority and tradition in their writings.  

 
About the Author
---
Judy Kem is a professor of French at Wake Forest University. She is editor or author of three books in French studies.
 
 
Praise For…
---
"This study offers insight into the interlocking domains of literary history, medicine and gender in early modern France."—Alexandra Verini, Early Modern Women

"An important and engaging book, Pathologies of Love examines the role played by received ideas on erotic diseases—from lovesickness to syphilis—in the early modern debates known as the querelle des femmes. . . . Accessible, thought provoking, and informative, this volume will prove essential reading for anyone interested in early modern medicine, gender studies, and literature."—Nancy Frelick, associate professor of French studies at the University of British Columbia, Vancouver

 

"The volume's careful study of subjects as diverse as courtly love, early modern medicine's perceptions of women, and questions of interpretation of sixteenth-century discourse and literature is a substantial and welcome contribution to the existing scholarship on women and their evolving role in early modern society."—Leanna Bridge Rezvani, Department of Global Studies and Languages at MIT