Apostles of Empire: The Jesuits and New France (France Overseas: Studies in Empire and Decolonization) (Paperback)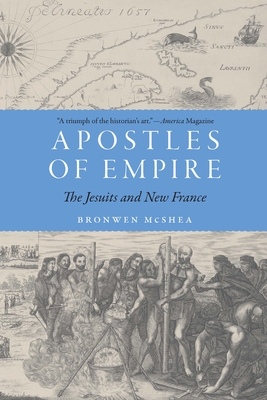 $30.00

usually available in 3-7 days
Description
---
Winner of the 2020 Catholic Press Association Book Award in History

Apostles of Empire is a revisionist history of the French Jesuit mission to Indigenous North Americans in the seventeenth and eighteenth centuries, offering a comprehensive view of a transatlantic enterprise with integral secular concerns. Between 1611 and 1764, 320 Jesuits were sent from France to North America to serve as missionaries. Most labored in colonial New France, a vast territory comprising eastern Canada and the Great Lakes region, inhabited by diverse Native American populations. Although committed to spreading Catholic doctrines and rituals and adapting them to diverse Indigenous cultures, these missionaries also devoted significant energy to more worldly concerns, particularly the transatlantic expansion of the absolutist-era Bourbon state and the importation of the culture of elite, urban French society.

In Apostles of Empire Bronwen McShea accounts for these secular dimensions of the mission's history through candid portraits of Jesuits engaged in a range of activities. We see them not only preaching and catechizing in terms borrowed from Indigenous idioms but also cultivating trade and military partnerships between the French and various Indian tribes. McShea shows how the Jesuits' robust conceptions of secular spheres of Christian action informed their efforts from both sides of the Atlantic to build up a French and Catholic empire in North America through Indigenous cooperation.
 
About the Author
---
Bronwen McShea earned her PhD in early modern history at Yale University and an MTS in the history of Christianity at Harvard Divinity School. She has books forthcoming on the life of Cardinal Richelieu's heiress, the Duchesse d'Aiguillon, and on women in the history of the Catholic Church.
 
Praise For…
---
"[Apostles of Empire] represents a valuable contribution to French colonial history and transatlantic cultural and intellectual exchange, as well as to a better understanding of French influence on the development of modern American society in general."—Mirela Altic, Terrae Incognitae

"Apostles of Empire is an excellent transatlantic history of the French Jesuit order that problematizes the historiographical divide between missionary work and empire."—Eric J. Toups, Connections. A Journal for Historians and Area Specialists

"McShea's book is an impressive work of research, one which adds considerably to our knowledge of the mission of the Society of Jesus in North America."—Michael Walsh, Reading Religion

"One comes away from the book with a sense of a lost world recovered and portrayed in loving detail. McShea has done for early modern North America and New France what Andrew Willard Jones's Before Church and State did for the France of the thirteenth century. The result is a triumph of the historian's art."—Adrian Vermeule, America: The Jesuit Review
 

"This text firmly establishes McShea as a leading contemporary scholar of French religious history. . . . In our time of resurgent national feeling throughout the West and much intra-Catholic disagreement about the nation's place in the world, the type of realism advocated by McShea in trying to understand what Catholics do, and how and why they do it, seems more necessary than ever."—Samuel Gregg, Catholic World Report

"Apostles of Empire is a meticulously researched, elegantly written, and precisely aimed salvo intended to demolish some of historiography's most cherished myths about the Jesuits in North America."—Mary Dunn, Journal of Jesuit Studies

"McShea's deeply original monograph is a must read for scholars of Early America. Authoritatively debunking the myth of French Jesuit missions as otherworldly, Apostles of Empire demonstrates that we cannot fully understand the history of North American imperial competition without French Jesuits."—Gabrielle Guillerm, American Catholic Studies

 "Apostles of Empire is an important addition to the historiography of Jesuit missions, New France, and the French Atlantic World."—Riley Wallace, Archivum Historicum Societatis Iesu

"A boldly revisionist account of the Jesuit mission in New France. . . . This impressively researched, well-structured, and superbly written narrative makes important contributions to our knowledge of early modern Jesuits, Catholicism, France, French colonialism, and the Atlantic World, while simultaneously casting modern French colonialism in a new light."—Brad S. Gregory, author of The Unintended Reformation: How a Religious Revolution Secularized Society

"Thanks to McShea's meticulous research, these missionaries now appear less as ascetic martyrs devoted to saving Native American souls and more as worldly imperialists committed to spreading French civilization. In tracing the 'civilizing mission' back to the seventeenth century, this study upends current assumptions about the Enlightenment origins of modern French imperialism."—Charles Walton, author of Policing Public Opinion in the French Revolution