Uncle Bobby's Wedding (Hardcover)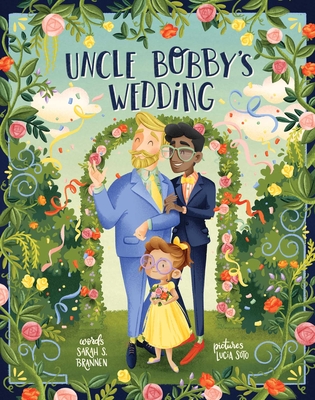 $17.99

usually available in 3-5 business days
Description
---
Chloe's favorite uncle is getting married, and she's not happy about it. But after a magical day with Uncle Bobby and his boyfriend, Jamie, Chloe realizes she's not losing an uncle, but gaining one. Selected by Kirkus Reviews as one of the best picture books of 2020 and by the American Library Association as a 2021 Rainbow Book List title, celebrate family with this gorgeous picture book.

Featured on Bank Street's Best Books of the Year list .

"A joyous, heartwarming, sweet-and essential-update." Kirkus Reviews, STARRED REVIEW

"Those we love, [Soto] and Brannen show, needn't change just because they love someone else, too-there's plenty of room in the human heart." Publishers Weekly

"A large-hearted affirmation of society's newest kind of wedding." Booklist

"Valiant, valid, validating, valuable." Gregory Maguire, author of Wicked

"With warm, richly colored, and expressive illustrations by Lucia Soto, the book, published in partnership with GLAAD, serves as a gentle and welcome celebration of the different shapes love and family can take." Boston Globe

When Chloe's favorite uncle announces that he's getting married, everyone is excited. Everyone except Chloe, that is. What if Uncle Bobby no longer has time for picnics, swimming, or flying kites? Chloe just wants to keep having fun with her favorite uncle, but she's afraid everything is going to change. Can Uncle Bobby and his boyfriend Jamie show Chloe that, when it comes to family, the more the merrier? In this inspiring, love-filled story, Chloe learns just what family means.

Produced in coordination with GLAAD, this adorable picture book is a positive example of same-sex marriage and a celebration of family.
About the Author
---
Sarah Brannen is an award-winning author and illustrator of more than twenty books for children, including Bear Needs Help, Madame Martine, Seashells: More Than a Home, and Feathers: Not Just for Flying. She also illustrated the 40th-anniversary edition of All Kinds of Families by Norma Simon. Sarah lives in Massachusetts. Learn more at sarahbrannen.com.

Lucia Soto is an illustrator and graphic designer who loves Julie London and Art Deco, and is afraid of pigeons. After working as an art director in advertising, Lucia decided to set up her own studio and make beautiful art. Uncle Bobby's Wedding is her debut picture book. She lives with her husband and their tiny apple tree in London, England. luciasoto.com
Praise For…
---
Uncle Bobby is getting married-but his niece Chloe doesn't know if that is a good idea.
When Uncle Bobby announces at the first picnic of the summer that he and "his friend, Jamie," are getting married, everyone is happy except Chloe. When she expresses her concern to her mother, Mom says she should talk to Uncle Bobby, who reassures Chloe that they will still have plenty of fun together-and then sets out to prove it. Bobby and Jamie take Chloe to the ballet and joke afterward at a soda shop. They go sailing, and Jamie is the first to jump in when Chloe tumbles out of the boat. Roasting marshmallows over a campfire, Chloe happily says, "I wish both of you were my uncles"-and of course they tell her she will get that wish. Flower girl Chloe helps out at the wedding, and they all dance the night away. Brannen reworks the text of her out-of-print and oft-challenged 2008 title to good effect. The tale of a child's uncertainty and jealousy at her uncle's wedding someone who just happens to be another man and the family's carefree celebration of that union remains essentially the same. Soto's bright, friendly cartoons, however, depict a diverse human cast-Uncle Bobby presents white and Jamie presents black-representing a quantum leap forward over the original's anthropomorphic guinea pigs. Chloe has light beige skin; her mother presents white, and her father's skin is a shade darker than Chloe's.
A joyous, heartwarming, sweet-and essential-update.
— Kirkus Reviews, STARRED REVIEW

In this reworking of a 2008 title, now published in partnership with GLAAD, everyone in the family is happy that Uncle Bobby and his "friend" Jamie are getting married, with one exception: Chloe worries that the marriage will make her uncle less present in her life. But Uncle Bobby handles this sense of displacement like a pro: he invites Chloe to go on outings with him and Jamie, and soon Chloe realizes that Jamie is a lot of fun-after a trip to the ballet, "Jamie imitated the ballet dancers and Chloe laughed so hard, she got soda up her nose"-and that two uncles might be better than one. From the announcement picnic to the lively wedding (with Chloe as a yellow-clad flower girl), illustrator Soto's inclusive cartooned characters are attentive and affectionate in a way that feels genuine. Those we love, she and Brannen show, needn't change just because they love someone else, too-there's plenty of room in the human heart.
— Publishers Weekly

This reissue of Brannen's 2008 story features virtually identical text, but its sprightly new
illustrations offer one big difference: the characters are human this time around (they were
guinea pigs in the original). Otherwise the story of a same-sex wedding is the same. Bobby
remains little Chloe's favorite uncle, and she is once again distressed when he announces he is
marrying his friend Jamie-not because Jamie is a man, but because Chloe wants to keep
having fun with Uncle Bobby. Happily, when Jamie joins them in their times together, the fun is
only enhanced, and soon Chloe is wishing both men could be her uncle. She is elated, therefore,
when Jamie explains that after he and Bobby are married, she will have two uncles. The wedding
goes off with only a few humorous glitches, and when it is over, Chloe pronounces it the best
wedding ever. And so it is. Not as groundbreaking as its first incarnation, yet this new, more
realistic version nevertheless remains a large-hearted affirmation of society's newest kind of
wedding.
— Booklist

In Sudbury-based children's book writer Sarah S. Brannen's new picture book, her 20th, "Uncle Bobby's Wedding" (Little Bee), Chloe fears that her favorite uncle getting married means the end of their adventures together, that she'll lose her kite-flying partner, and her pal at picnics. What Bobby and his soon-to-be-husband show Chloe is that there's room enough for all kinds of love, and that loving a new person doesn't mean there's less room for other love. With warm, richly colored, and expressive illustrations by Lucia Soto, the book, published in partnership with GLAAD, serves as a gentle and welcome celebration of the different shapes love and family can take.
— Boston Globe