Escape from . . . Hurricane Katrina (Paperback)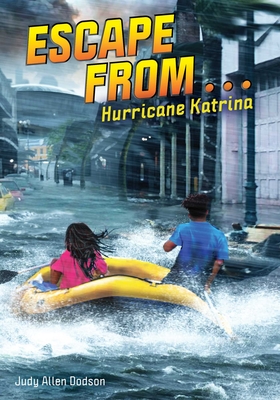 $5.99

Special Order - may be out of print
Description
---
"A satisfying read." --School Library Journal

Hurricane Katrina was one of the most destructive storms in American history. In this fictional tale, daring twins Jo Jo and Sophie battle the raging floodwaters in a fight for their lives.

For twins Jo Jo and Sophie Dupre, Hurricane Katrina isn't the most important thing on their minds-not compared their mother's cancer treatments, Sophie's swim meet, and Jo Jo's upcoming coding competition. But when the storm intensifies and there's only one seat their aunt's car, Mom has to be the one to evacuate. The twins and their father are stuck at home in the Lower Ninth Ward of New Orleans.

The winds rise-and with them, the waves. The levees break and floodwater rages through the city. During the chaos, Jo Jo and Sophie are swept away. Together, they must find their way to the Superdome, where their father should be waiting-but can they escape the wrath of one of the deadliest storms in history?
About the Author
---
Judy Allen Dodson is a public librarian, archivist, and children's book author. Judy was the winner of the 2016 SCBWI On-the-Verge Emerging Voices Award and the recipient of a North Carolina Arts Council grant. She's a member of SCBWI, the regional co-ambassador for the Authors Guild, and a former member of the Coretta Scott King Archives and History Committee. Judy has a passion for celebrating diverse children's literature and teaching young children about history. Judy lives in Raleigh, North Carolina with her husband and two children. Visit her online at judyallendodson.com.

Nigel Chilvers was born and raised in Aintree, just outside Liverpool, UK. After completing an Art Foundation at Hugh Baird College, he went on to study Illustration at Wolverhampton University. He originally trained as a paper-based artist until switching over to digital work in 1997. Since then, he has worked for many years freelancing in licensing, working on many character-based books for Thomas the Tank Engine, Bob the Builder, Noddy, and much more. In his spare time, if he's not training for triathlons, he can be found climbing the fells of the Lake District or the North Welsh mountains.
Praise For…
---
A set of fraternal twins find themselves in a precarious situation as Hurricane Katrina hits their home in New Orleans in 2015. Told from alternating points of view, 10 year-old JoJo and his sister Sophie take readers through three days of a harrowing ordeal. After being separated from their parents, the twins set their sights on reaching the Superdome, where they are hoping to find clean water and food. As they float in the water on their raft, they are able to help a family with a young baby. Sophie's swimming skills are tested as she rescues the baby when it is unexpectedly pulled away from its mother into the flood waters. Once at the Superdome, the twins make friends with Luce, they are able to get medicine for Sophie's stomachache, and are reunited with their dad. He sees their secret message and deciphers it. The family boards a bus to Austin, and for the next year they live with their cousins. ­Finally, in 2006, the Dupres are able to return to their renovated home in New Orleans. After every chapter, the author includes notes regarding the actual events of Hurricane Katrina in a section titled "Reality Check." Illustrations in the text appropriately help readers visualize the events taking place. VERDICT Overall, a satisfying read.
— School Library Journal