Love and the Politics of Care: Methods, Pedagogies, Institutions (Hardcover)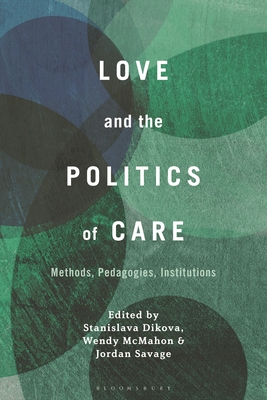 Description
---
This edited volume offers a contemporary rethinking of the relationship between love and care in the context of neoliberal practices of professionalization and work. Each of the book's three sections interrogates a particular site of care, where the affective, political, legal, and economic dimensions of care intersect in challenging ways. These sites are located within a variety of institutionally managed contexts such as the contemporary university, the theatre hall, the prison complex, the family home, the urban landscape, and the care industry. The geographical spread of the case studies stretches across India, Vietnam, Sweden, Brazil, South Africa, the UK and the US and provides broad coverage that crosses the divide between the Global North and the Global South.

To address this transnational interdisciplinary field of study, the collection utilises insights from across the humanities and social sciences and includes contributions from literature, sociology, cultural and media studies, philosophy, feminist theory, theatre, art history, and education. These inquiries build on a variety of conceptual tools and research methods, from data analysis to psychoanalytic reading. Love and the Politics of Caredelivers an attentive and widely relevant examination of the politics of care and makes a compelling case for an urgent reconsideration of the methods that currently structure and regulate it.
About the Author
---
Stanislava Dikova is a postdoctoral researcher in twentieth century literature and a Visiting Fellow at the University of Essex. Wendy McMahon is an Associate Professor in American Studies at the University of East Anglia. Jordan Savage is a Lecturer in United States Literature at the University of Essex.