Miracle at Midway (Paperback)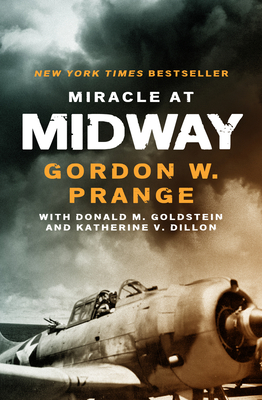 $20.99
usually available in 5-10 days
Description
---
New York Times bestseller: The true story of the WWII naval battle portrayed in the Roland Emmerich film is "something special among war histories" (Chicago Sun-Times).

Six months after Pearl Harbor, the seemingly invincible Imperial Japanese Navy prepared a decisive blow against the United States. After sweeping through Asia and the South Pacific, Japan's military targeted the tiny atoll of Midway, an ideal launching pad for the invasion of Hawaii and beyond.

But the US Navy would be waiting for them. Thanks to cutting-edge code-breaking technology, tactical daring, and a significant stroke of luck, the Americans under Adm. Chester W. Nimitz dealt Japan's navy its first major defeat in the war. Three years of hard fighting remained, but it was at Midway that the tide turned.

This "stirring, even suspenseful narrative" is the first book to tell the story of the epic battle from both the American and Japanese sides (Newsday). Miracle at Midway reveals how America won its first and greatest victory of the Pacific war--and how easily it could have been a loss.
About the Author
---
Gordon W. Prange (1910-1980) was a professor of history at the University of Maryland and a World War II veteran. He served as the chief historian on General Douglas MacArthur's staff during the postwar military occupation of Japan. His 1963 Reader's Digest article "Tora! Tora! Tora!" was later expanded into the acclaimed book At Dawn We Slept. After Prange's death, his colleagues Donald M. Goldstein and Katherine V. Dillon completed several of his manuscripts, including At Dawn We Slept. Other works that Goldstein and Dillon finished include Miracle at Midway; Pearl Harbor: The Verdict of History; December 7, 1941: The Day the Japanese Attacked Pearl Harbor; and Target Tokyo: The Story of the Sorge Spy Ring. Donald M. Goldstein (1931-2017) was a retired United States Air Force officer; professor emeritus of public and international affairs at the University of Pittsburgh, where he taught for thirty-five years; a winner of two Peabody Awards; and author of many books. He also taught at the Air Force Academy, the Air War College, the Air Command and Staff College, the University of Tampa, and Troy State University. He was considered the leading authority on the Pearl Harbor attack. Katherine V. Dillon (1916-2005) was a chief warrant officer, United States Air Force (retired), and longtime collaborator with Gordon W. Prange and Donald M. Goldstein on their work. She served during World War II and the Korean War.