What Would Plato Think?: 200+ Philosophical Questions That Could Change Your Life (Hardcover)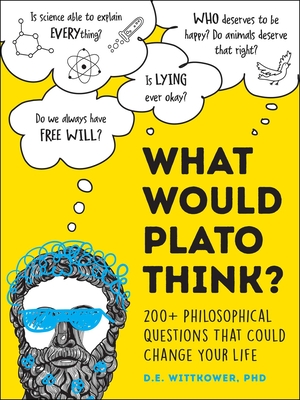 $16.99

Backordered - OK to 'add to cart' and we'll let you know when your copy is here
Description
---
Get one step closer to solving the uncertainties in your life with this guided journal and philosophy overview, What Would Plato Think?.

Inside What Would Plato Think?, you'll find the basics of philosophy, written in an easy, digestible way we can all understand, along with questions to help you apply these important theories to your own life. So, after you've learned about a philosophical concept, you'll then be challenged to test yourself and see how the results can impact your daily life.

For instance, after learning about Kant's theory of morality and the importance of intention you're challenged with questions like: Can good people do bad things? Was there a time when you intended to do something helpful that ended up being hurtful? Does that make you a good person (because you intended to do good) or a bad person (because the results were bad)?

What Would Plato Think? will not only help you better understand some of the greatest thinkers ever but will also help you think of the world around you in a whole new way!
About the Author
---
D. E. Wittkower, PhD, is a Professor of Philosophy and Chair at Old Dominion University in Norfolk, Virginia, and works primarily in philosophy of technology and the philosophy of everyday life and popular culture. He is editor of Facebook and Philosophy, Philip K. Dick and Philosophy, Mr. Monk and Philosophy, and iPod and Philosophy; has written articles for Slate and Speakeasy, as well as numerous journal articles and book chapters; and has recorded a dozen audiobooks with Librivox.org.