Walden (Hardcover)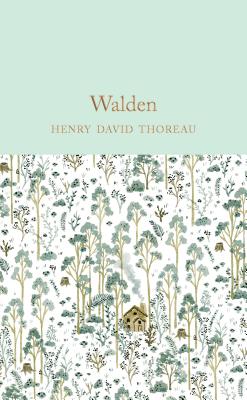 Description
---
Designed to appeal to the book lover, the Macmillan Collector's Library is a series of beautifully bound pocket-sized gift editions of much loved classic titles. Bound in real cloth, printed on high quality paper, and featuring ribbon markers and gilt edges, Macmillan Collector's Library are books to love and treasure.

Henry Thoreau is considered, along with Edgar Allan Poe, Ralph Waldo Emerson, Walt Whitman and Nathaniel Hawthorne, as one of the leading figures in early American literature, and Walden is without doubt his most influential book. It recounts the author's experiences living in a small house in the woods around Walden Pond near Concord in Massachusetts. Thoreau constructed the house himself, with the help of a few friends, and one of the reasons why he moved into it was in an attempt to see if he could live independently and away from society. The result is an intriguing work which blends natural history with philosophical insights and includes many illuminating quotations from other authors. Thoreau's wooden shack has won a place for itself in the collective American psyche, a remarkable achievement for a book with such modest and rustic beginnings.
About the Author
---
Henry David Thoreau (1817 – 1862) was an American author, naturalist, transcendentalist, tax resister, development critic, philosopher, and abolitionist who is best known for Walden, a reflection upon simple living in natural surroundings, and his essay, Civil Disobedience, an argument for individual resistance to civil government in moral opposition to an unjust state.