The Great Pet Heist (Paperback)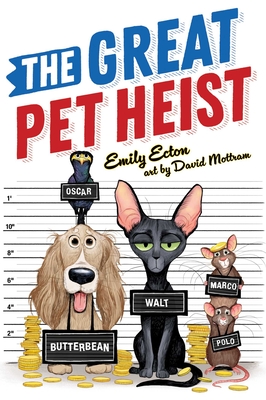 $8.99

usually available in 3-5 business days
Description
---
Ocean's Eleven meets The Secret Life of Pets in this "classic caper" (Booklist) following a ragtag group of pets who will do whatever it takes to avoid being sent to the pound.

Butterbean knew she wasn't always a good dog. Still, she'd never considered herself a BAD dog—until the morning that her owner, Mrs. Food, fell in the hallway. Admittedly the tile was slipperier than usual, mostly because Butterbean had just thrown up on it.

Now Butterbean and her fellow pets have to come up with a grand plan to support themselves in case Mrs. Food is unable to keep taking care of them. When they discover a mysterious man in their building who seems to have lots of loot, they plan a heist. Oscar the mynah bird is the brains of the operation. Walt the cat has the necessary slyness and slink. Marco and Polo are the reconnaissance rats. And Butterbean...well, no one would ever suspect a cute little wiener dog, right? Can these animal friends can pull off the heist of the century?
About the Author
---
Emily Ecton is the author of The Great Pet Heist series as well as a number of middle grade books published under the names Emily Ecton and Emily Fairlie. She is also a former writer and producer for Wait, Wait…Don't Tell Me!, the Peabody Award­–winning comedy news quiz on NPR. She lives in Virginia, with Howdy, a dog who dreams of someday going to a supermarket. Visit her at EmilyEcton.com.

Dave Mottram is an illustrator living in Ohio who worked as a graphic designer for many years, which led him to pursue his passion for illustration. He paints traditionally and digitally with color and layers and line. He loves tacos, animals, tikis, and nerding out over art supplies. Visit him at DaveMottram.com.
Praise For…
---
"It's amusing just to watch the merry band of misfit pets navigate the wide world of the eclectic high-rise apartment, but there's enough true suspense to keep the larger story moving. This classic caper may have young readers looking sideways at their own pets when the story is through."
— Booklist

"Ecton creates a strong personality for each animal, from the hyper dog Butterbean to the know-it-all bird Oscar, and pet lovers will be sure to enjoy the banter between them. . . . Adorable illustrations from Mottram help readers visualize the characters and add an appealing visual element. A story sure to charm children who like to imagine what their beloved pets are up to when they are away."
— School Library Journal

"Bantering dialogue, the distinct personalities of the pets (expressively illustrated by Mottram), and the whimsical premise make for an exciting caper."
— Kirkus Reviews