Moving the Millers' Minnie Moore Mine Mansion: A True Story (Hardcover)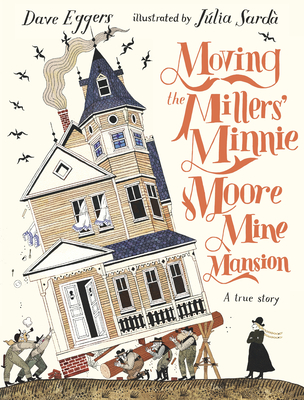 $19.99

usually available in 3-5 business days
Description
---
Author Dave Eggers and artist Júlia Sardà spin a quirky historical event into a whimsical and tall-ish true tale of American ingenuity.

Make way for history as only Dave Eggers could stage it. It all started when John "Minnie" Moore built a mine in Idaho and sold it to Englishman Henry Miller. Then Henry married a local lass named Annie and built her a mansion, hence the "Millers' Minnie Moore Mine Mansion." After Henry died and Annie was hoodwinked—losing all but the mansion—she and her son took to raising pigs in the yard, as some are wont to do. But the town wanted those pigs out. Who could have guessed that Annie and her crew would remove the whole mansion instead—rolling it away slowly on logs—while she and her son were still living in it? Narrated with metafictional flair, this delightfully illustrated picture book is proof positive that nonfiction can be as lively and artful as any storybook.
About the Author
---
Dave Eggers is the author of numerous books. Those for adults include What Is the What, Zeitoun, and A Heartbreaking Work of Staggering Genius, among others. His books for young readers include Her Right Foot and What Can a Citizen Do?, both illustrated by Shawn Harris; Abner and Ian Get Right-Side Up, illustrated by Laura Park; Tomorrow Most Likely, illustrated by Lane Smith; and the middle-grade novel The Lifters, among others. He is the founder of 826 National, a network of youth writing and tutoring centers around the United States, as well as numerous other foundations and organizations centered on education, human rights, and arts and activism. Dave Eggers lives in Northern California.

Júlia Sardà is a Spanish artist and the author-illustrator of The Queen in the Cave, as well as the illustrator of Mary Who Wrote Frankenstein by Linda Bailey, The Liszts by Kyo Maclear, The Wolf's Secret by Nicolas Digard and Myriam Dahman, and a number of classics, including Alice's Adventures in Wonderland and The Wizard of Oz. Júlia Sardà lives in Barcelona.
Praise For…
---
Sardà's delightfully off-kilter images add an extra dash of quirkiness to Eggers's whimsical tale of a widow who "simply" moved her house four miles down the road.
—The New York Times Book Review

"Like all of the best stories, this takes place in Idaho," and with that irresistible first line, Eggers dives into a clever, buoyant, and fascinating nonfiction story of a house, a woman, and, eventually, her pigs. The story of the mine itself is told with brevity and wit. . . . The absurdity of the tale itself is a delight, and the wandering path from lucky dog to a yard full of pigs is peppered with clever asides, an informal and inviting tone, and enough historical context to conjure up a clear sense of the time, location, and series of events.
—The Bulletin of the Center for Children's Books (starred review)

[Eggers] delights in language, pulling a very natural humor out of an already silly tale. . . . A whimsical reimagining of an obscure historical event.
—Kirkus Reviews

"Moving house" takes on an unusual meaning in this tale of a nineteenth century mansion that was transported four miles—intact, with a family living inside—outside of an Idaho town in 1914. . . the episode has more than just local appeal.
—Booklist

[Eggers] sets the stage with exuberant editorializing.
—Publishers Weekly

Eggers' familiar conversational style offers a perfect read aloud of the true story of the Henry Miller family home. . . . Eggers' precisely placed punctuation, his clever tongue-in-cheek banter, and his meta-fictive reader engagement, alongside Sarda's humorous sepia-toned illustrations, support this delightful and engaging true story of moving a mansion four miles to the outskirts of town. The upbeat, energetic illustrations lend this title the perfect balance of humor and history.
—School Library Connection

With brio and humor, Mr. Eggers relates the history of a fine Victorian house in 19th-century Idaho and a big decision taken by its owner, Annie Miller. . . . In Ms. Sardà's crisp and witty illustrations, we see Annie Miller facing down a trio of hectoring townsmen, their beards and side whiskers evoking the old-timey West. What to do? She hits on an ingenious scheme involving logs that, in a manner of speaking, allows her to have her cake and eat it. In this entertaining tale of can-do enthusiasm, all ends well for everyone involved—except the pigs.
—The Wall Street Journal

Moving the Millers' Minnie Moore Mine Mansion is a great tongue twister title and a unique, bizarre true story. It integrates frontier history, solid writing, and brilliant illustrations and mixes that together with imaginative fun, quirky problem-solving resourcefulness, big picture ambition and human perseverance. Surely this is more than meets the eye-catching cover; nonfiction readers will be pleasantly surprised.
—The New York Journal of Books