The Essential First-Time Home Buyer's Book: How to Buy a House, Get a Mortgage, And Close a Real Estate Deal (Paperback)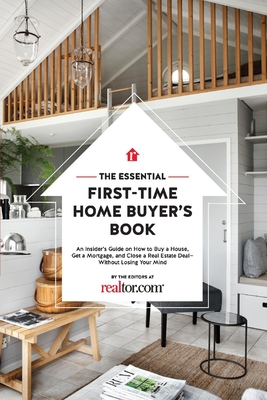 $14.99

Backordered - OK to 'add to cart' and we'll let you know when your copy is here
Description
---
Whether you're buying your first home or your fifth, it's important for buyers to learn the latest real estate rules about mortgage lenders, interest rates, down payments, real estate agents, disclosures, FHA loans, and other basic of home buying. That's where this book from the editors at realtor.com can help! In this step-by-step book, we'll guide you through the home-buying process and point out the pitfalls, so that first-time home buyers can navigate the real estate market with confidence.
Here's some of the home-buying info you'll learn in this book:
What price house first-time home buyers can afford and other mortgage info so that home ownership is financially feasible
Advice to help home buyers clean up their credit score, and why it's key to get the best mortgage from a lender
How first-timers can find the right mortgage lender, and what it means to get pre-approved verses pre-qualified for a home loan
What buyers should know about FHA loans, USDA loans, and other mortgage and down payment options for a new home
How a real estate agent or Realtor can help first-time buyers with home buying, mortgage loans, down payments, home sellers, and beyond Advice for home buyers on picking the right real estate agent or Realtor, as well as the best first home, mortgage loan, and more
Step-by-step advice on how buyers should make an offer on a first home, and negotiate a real estate deal with home sellers
What happens during a home appraisal, home inspection, home closing, and other stages of the home-buying process
A guide for first-time home buyers on moving into their first home with minimal hassles
About the Author
---
The editors at realtor.com are dedicated to offering news and advice on all things real estate. Our goal? To help people make confident decisions about home buying, selling, remodeling, décor and more.
Praise For…
---
"Insightful, easy to understand, and filled with practical knowledge, The Essential First-Time Home Buyer's Book should be in the hands of anyone even considering buying a home. It's a straight-talking guide through the entire real estate process, from dreaming about owning a home, to moving your furniture into it. I've been buying and selling properties for nearly 25 years, and found the savvy tips on avoiding pitfalls and navigating through negotiations to be invaluable. It's a comprehensive guide that makes the daunting experience of purchasing real estate completely manageable and attainable; how I wish I had this book when I was buying my first house!" —Jennifer Farrell, television host and real estate expert
 

"If you only read one book about buying your first home, realtor.com's Essential First-Time Home Buyer's Book is definitely worth your time. Informative and thorough, the book not only demystifies the entire buying process but helps you avoid the costly mistakes many buyers make simply because they neglect to ask the right questions. After reading this, my only regret is that I didn't write it myself. It's that good." —Dolly Lenz, a New York City-based real estate broker at Dolly Lenz Real Estate LLC—a firm that has worked with Leonardo DiCaprio, Jennifer Lopez, Mariah Carey, Deepak Chopra, Cameron Diaz, Robin Williams, Billy Joel, Usher, Barbra Streisand, Nathan Lane, Cher, Liam Neeson, Jeff Bezos, and others
 

"This book is a must-read for any home buyer. The Essential First-Time Home Buyer's Book walks readers through the whole home-buying process, explaining the things that pop up along the way. Things like 'contingencies' and 'title insurance', or even what to expect in 'escrow.' They don't teach this stuff in school! That is one the main points I drive home in my real estate books and when I do a TV appearances. The most important thing a home buyer can do is learn about the process before they start. With this book, an educated home buyer can house hunt with confidence, and will save themselves thousands of dollars in the process." —Michael Corbett, real estate expert, Extra! correspondent/producer, producer/host of "Mansions and Millionaires," author of Find It, Fix, It Flip It