A Dirty, Trifling, Piece of Business Volume I: The Revolutionary War as Waged from Canada in 1781 (Paperback)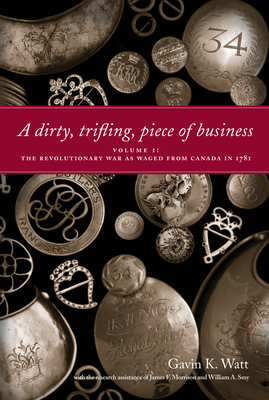 $35.00

usually available in 3-7 days
Description
---
By 1781, the sixth year of the American rebellion, British strategic focus had shifted from the northern states to concentrate in the south. Canada's governor, Frederick Haldimand, was responsible for the defence of the Crown's largest colony against the threat of Franco-American invasion, while assisting overall British strategy. He cleverly employed his sparse resources to vigorously raid the rebels' frontiers and create anxiety, disruption, and deprivation, as his Secret Service undermined their morale with invasion rumours and threatened their Union by negotiating with the independent republic of Vermont to return to the British fold.
Haldimand flooded New York's Mohawk and Schoharie valleys with Indian and Loyalist raiders and, once the danger of invasion passed, he dispatched two coordinated expeditions south. One was launched onto Lake Champlain to alarm Albany and further the secret talks with Vermont. The second struck deep into enemy territory, fought a battle at Johnstown, and retreated precipitately. The rebels effectively countered both expeditions.
About the Author
---
Gavin K. Watt is a founding member of the Museum of Applied Military History. His previous histories of the American Revolution are Rebellion in the Mohawk Valley: The St. Leger Expedition of 1777 and The Burning of the Valleys: Daring Raids from Canada Against the New York Frontier in the Fall of 1780. He lives in King City, Ontario.
Praise For…
---
" This piece of work is a must for any serious student of the Revolutionary War. Gavin Watt is one of the foremost writers and experts on the important contributions of the Loyalists who supported the Crown in the war. No Rev War library will be complete without this and volume two which is due to be published shortly. Three cheers for Mr. Watt: Huzzah! Huzzah! Huzzah!" -- Rolland Minor, New York State