Prefabulous: Prefabulous Ways to Get the Home of Your Dreams (Hardcover)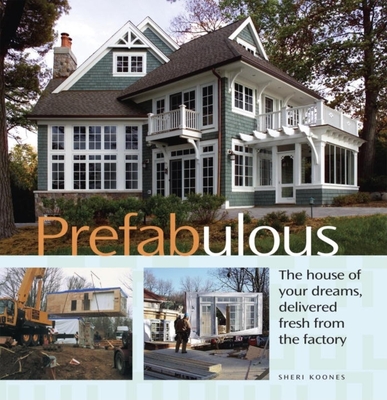 $25.00

usually available in 3-5 business days
Description
---
This is the only book that gives homeowners who are dreaming about building or planning to build a new home the good and the bad on all types of prefabricated houses. Shows that prefabricated can be mainstream traditional design and does not have to look like a mobile home or a modular "Dwell" box.
Prefabulous describes the many systems available for prefabricating all or parts of a new home, including timber frame and log, as well as modular, panelized, structural insulated panels, steel framing and concrete systems, which are relatively new. Prefabulous describes these systems, compares their advantages and disadvantages, and shows beautiful examples of houses built using these techniques. Although all of these "prefabricated" houses look very different, all of them were manufactured partially or almost completely in a controlled factory environment and transported to the home site to be erected. As a group these systems offer a faster, more energy-efficient, and sometimes more cost-efficient method of building.
Includes a foreword by Not So Big House author Sarah Susanka, who writes: "For homeowners who want to know the options, the advantages and disadvantages of those options, and to see how those prefabricated parts come together into a good, attractive home, read this book.
Praise For…
---
Normally, I am turned off by real estate books with clever, cute titles such as "Prefabulous" by Sheri Koones. However, I am "turned on" by this great, new, beautiful book that completely changed my mind about so-called "prefab" homes, which are custom built in factories to the specifications of the buyers. As with all Taunton Press "coffee-table-quality" books with lots of color photos, the only word to describe this one is "amazing." It includes all prefab systems that are used to engineer and assemble homes in factories, then ship them on trucks to the home site. Panelized, log, timber-frame, concrete, hybrids and steel-frame homes are included. As famous author and home designer Sarah Susanka says in her forward to the book, "For some people, words like modular, manufactured, panelized and prefabricated conjure up visions of ticky-tacky subdivisions in which every house looks just the same. But the biggest story in 'Prefabuous' is that just because something is made in a factory doesn't mean it has to be boring or the same as hundreds of other houses." This ultracomplete book not only shows the many varieties of prefab homes now available, but the author has done an admirable job of educating readers about what they need to know. If you are considering building your home on a lot you already own or want to acquire, this book will open your eyes to show what can be done with prefab homes, which look like custom homes but cost a lot less. The many examples and explanations show what can be accomplished. On my scale of one to 10, this superb book rates an off-the-chart 12.
--Robert J. Bruss, Inman News
Americans build about 40,000 modular homes a year. Imagine if new-home buyersand builders realized all the advantages of building a home in a factory setting. No exposure to the elements. No loss of materials. No work days lost to bad weather. The ability for more precise measurements. In "Prefabulous: The House of Your Dreams Delivered Fresh From the Factory" (Taunton Press, $25), Sheri Koones gives readers an up-close-and-personal look at the modular industry. Unlike site-built homes, modular homes often are built stronger, with tighter insulation and more efficient use of materials. Koones' book examines modular structures from Long Island, N.Y., to San Francisco and building techniques that range from sticks to concrete. If you're considering a new home, this book is a must-buy. "- Newsday"
[Koones] clearly explains eight types of prefab components and how they can be used to create custom log homes, traditional bungalows, timber-frame barns and concrete- or steel-frame contemporaries. All are welcome improvements over their often-ugly predecessors. Prefab construction saves time, money and materials because everything is made to precise specs indoors. Bad weather is simply not a delaying factor. Once the foundation is set, the rest of the house -- walls, floors, dormers and roofing -- can go up in a matter of weeks or months. How prefabulous. --Annie Groer, "The Washington Post"
It's clear from the title that Sheri Koones' new book isn't going to tell us that there's something wrong with the resurrection of prefabricated home building. Prefabulous glorifies the technique by showing beautiful homes that even an expert would not guess had been built, in pieces or in whole, in factories. That's OK -- as Koones tells it, this can be a cheaper andgreener way to build than stick by stick. She does explain the various systems of prefab -- including modular, panelized, SIPs, concrete, steel and log -- and gives pluses and minuses for each. --Susan Fornoff, "San Francisco Chronicle
""Prefabulous, the House of Your Dreams Delivered Fresh from the Factory" (Taunton Press, $25) will shatter your misconceptions about small, boxy and modern structures. These prefabs are customized and so rich in detail and style they are hardly distinguishable from "traditionally" built homes. Sheri Koones brings together the prefab building systems - new and old - describing and comparing the advantages and disadvantages of each. It's hard to believe after seeing the photos, but each featured home was manufactured partially or completely in a controlled factory environment then moved to the site. "--The Cincinnati Enquirer "
"
"
Sheri Koones demystifies the concept of the prefabricated house, and explains why these factory-built homes are greener, more efficient, sturdier and more cost-effective than site-built homes. The book examines all types of prefab houses, including modular, panelized, timber frame, concrete and steel, as well as log construction and homes built with structural insulated panels (SIPs). "--Smart Homeowner"
In her foreword to Sheri Koones' new book, architect Sarah Susanka makes an intriguing point: We'd never agree to have a new car assembled in the driveway or a new dishwasher put together on the kitchen floor. Yet when it comes to houses, many of us assume one built on site is superior to one constructed in a factory. "Prefabulous" offers evidence to the contrary. Factory construction, Koones' book argues, savestime, money and building materials, and can result in sturdy houses that require less energy and maintenance. Yet as her book illustrates, it doesn't require sacrifices regarding the home's design. --"Akron Beacon Journal"