Complete Starter Guide to Whittling (Paperback)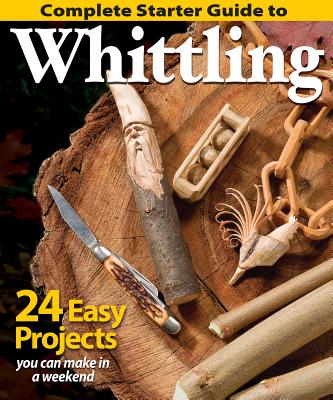 $12.99

usually available in 3-5 business days
Description
---
You can whittle just about anything--the only limit is your imagination. It's so easy to get started in this relaxing and rewarding hobby. All you need is a knife, a twig, and this book We've assembled a team of 12 leading woodcarvers to bring you a complete starter guide to whittling. They present 24 easy whittling projects for beginners that you can make in just a weekend, complete with step-by-step instructions, how-to photographs, ready-to-carve patterns, and helpful tips. Start off with fast and fun projects that build confidence and teach fundamental carving techniques, like a simple flying propeller or a 5-minute owl. Then move on to create whittled wonders like a musical frog or a slingshot. We show you how to whittle complex designs in easy steps, so that you'll soon be carving attention-getting favorites like chain links or the classic ball-in-a-cage.
About the Author
---
Contributors include a cross-section of leading whittling authors, teachers, and artists, including:

Chris Lubkemann is the author of four Fox Chapel whittling books that have collectively sold more than 150,000 copies. Chris's woodcarvings have been recognized by Guinness World Records, and the CEO of Victorinox Swiss Army Knives called his "Little Book of Whittling" ""The most wonderful book about whittling I have ever seen."

Lora S. Irish is a nationally recognized carving artist and the author of 24 books, including "135 Gunstock Carving Patterns, Chip Carving Workshop, "and "Relief Carving Workshop." Fox Chapel Publishing has sold more than 300,000 copies of Irish's books.

Everett Ellenwood is an award-winning carver and author of "The Complete Book Of Woodcarving," which has sold more than 25,000 copies.