Secret Societies: The Complete Guide to Histories, Rites, and Rituals (Paperback)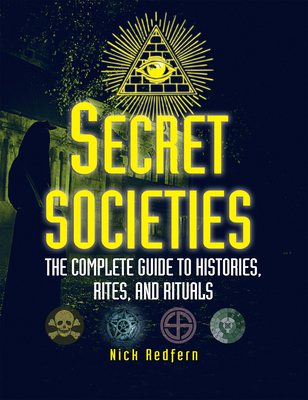 $24.95

Special Order - may be out of print
Description
---
Secrets, Lies, Privilege, and Power. An in-depth look at the hidden force and the inner workings of secret societies
Claims and counter-claims. Accusations and allegations. NSA spying and suppressed evidence. Cover-ups and threats. Documented connections and intrigue. Suggestions of a New World Order. Are we to believe the coincidences are mere chance? Might the paranoid be on to something? Who really holds the levers of power? History admonishes us to be vigilant of hidden plots and nefarious agendas of governments and the powerful.
Exposing their deep reach into the operations of today's world, Secret Societies: The Complete Guide to Histories, Rites, and Rituals is packed with details on nearly 200 organizations, their histories, founding members, backgrounds, and suspected conspiracies. It uncovers and probes the hidden agendas of these secret cabals. Along the way, it debunks myths and presents the evidence on an invisible world of influence. Powerful cliques, their plots, and their chilling affects are examined, including ... the Illuminati the Freemasons the Bilderberg Group MKUltra Skull and Bones Ordo Templi Orientis FEMA Hermetic Order of the Golden Dawn the Knights Templar Ku Klux Klan La Cosa Nostra Rosicrucian Order Crotona Fellowship Council on Foreign Relations Montauk Project World Bankers the Secret Government extraterrestrial invaders
and many, many more.
With more than 140 photos and other graphics, Secret Societies is richly illustrated, and its helpful bibliography and extensive index add to its usefulness. For skeptics and theorists alike, this thoroughly researched reference overflows with fascinating information to make readers think about--and possibly reconsider--the state of the nation and the world.
About the Author
---
Nick Redfern is the author of numerous books on conspiracies and paranormal and unexplained mysteries, including Visible Ink Press'' Secret History: Conspiracies from Ancient Aliens to the New World Order; The Bigfoot Book: The Encyclopedia of Sasquatch, Yeti, and Cryptid Primates; and The Monster Book: Creatures, Beasts, and Fiends of Nature;as well as The Real Men in Black; The NASA Conspiracies; There's Something in the Woods; Contactees; Strange Secrets; and On the Trail of the Saucer Spies. He has appeared on more than 70 TV shows, including: Fox News; the BBC's Out of This World; the SyFy Channel's Proof Positive; the Space Channel's Fields of Fear; the History Channel's Monster Quest, America's Book of Secrets, Ancient Aliens and UFO Hunters; Science's The Unexplained Files; the National Geographic Channel's Paranatural; and MSNBC's Countdown with Keith Olbermann. Originally from the UK, Nick lives on the fringes of Dallas, TX.