Lessons in Service from Charlie Trotter (Lessons from Charlie Trotter) (Hardcover)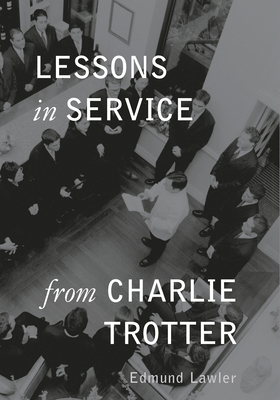 $24.99

Special Order - may be out of print
Description
---
In the second book in the Lessons from Charlie Trotter series, the lauded chef shares his strategies for success in this guide on how to give the ultimate dining experience.

As winner of the James Beard Foundation's Outstanding Restaurant Award, Charlie Trotter and his service staff run what many consider to be America's finest restaurant. But it's not just about food in this renowned Chicago hot spot. It's about a subtle relationship between food, wine, ambiance, and service—a relationship Trotter has perfected by hiring passionate staff with the ability to surpass his incredibly high standards. In LESSONS IN SERVICE, journalist Edmund Lawler reveals the secrets behind Trotter's unequaled success and shows other businesses how to improve their levels of service. From unconventional motivational techniques, staff empowerment, and mentoring to role playing, preservice meetings, and an obsessive pursuit of excellence—Trotter leaves nothing to chance. The service is a nightly ballet that leaves guests feeling pampered, educated, and of course, wonderfully satisfied. Follow the advice of Charlie Trotter, and no matter what your business, your customers will keep coming back again and again.

• Charlie Trotter's was nominated for the James Beard Foundation's 2001 Outstanding Service Award, and the restaurant received the Beard Foundation's Best Restaurant in America Award in 2000.

• Charlie Trotter's books have sold over 300,000 copies.
About the Author
---
EDMUND O. LAWLER teaches journalism at DePaul University and is the author of five books. He lives in Chicago, Illinois, with his wife and two sons.

 THE AUTHOR SCOOP

What's the history of your name?
My last name is a distillation of my ancestral name O'Leathlobhar, which is Gaelic for half-leper.

What was your first job?
Out of college, my first job was as a reporter for the City News Bureau of Chicago. I got to cover cops, politicians and crooks. Some of the categories overlapped.

If you owned a horse, what would you name it?
Mr. Ed

What's the farthest you've ever traveled?
I traveled to the Persian Gulf in 2004 where I taught journalism for two weeks at the University of Bahrain.

What did you want to be when you grew up?
I wanted to play shortstop for the Chicago White Sox.
Praise For…
---
"No restaurant in America comes closer to delivering a flawless total dining experience." —Wine Spectator"Every day at the restaurant is a journey. We consider the day a success if we can answer yes to a simple question: 'Have we improved today?'" —Charlie Trotter