Seashells by the Seashore (Paperback)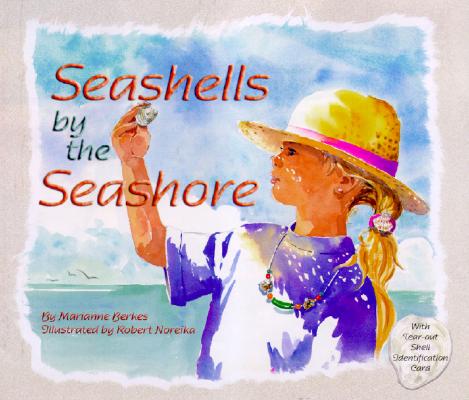 Description
---
Discover twelve kinds of seashells in this beautifully illustrated, rhyming and counting book for kids! Perfect for a trip to the beach, the classroom, and a gift for a granddaughter or grandson. Includes two full-page tear-out sheets of all twelve kinds of shells for kids to take with them (only available in the paperback edition).
Also available as a board book, which counts from one to ten!
Follow along with Sue and her friends and she picks up shells and carefully adds them to her bucket as a birthday gift for her Grandma! As Sue collects new shells, each one appears on along the side of the page, so kids can keep count.
But be careful—there may be a mollusk still living inside a shell! Sue and her friend release a mollusk back to the ocean when they find it still inside of its home.
Kids will learn about an assortment of seashells, including:
Kitten's paw shells
Scallop shells
Oyster shells
Moon shells
And more!
Backmatter Includes:
Information on how shells are made, and the mollusks that live inside of them
Descriptions of all twelve seashells found in the book
Two full tear-out pages (only available in the paperback edition) of the pictures of shells that kids can take with them to the beach!
About the Author
---
Marianne Berkes has spent much of her life as a teacher, children's theater director and children's librarian. She knows how much children enjoy "interactive" stories and is the author of many entertaining and educational picture books that make a child's learning relevant. Reading, music, theater, gardening, and cooking have been a constant in Marianne's life. Her books are inspired by her love of nature. Marianne hopes to open kids' eyes to the magic found in our natural world. She now writes full time. An energetic presenter at schools and conferences, Marianne believes that "hands on" learning is fun. Her website is www.MarianneBerkes.com.

Robert Noreika is a watercolorist with a passion for nature and art. He attended the Paier College of Art in Hamden, Connecticut and has his studio in an Arts Center in Avon, Connecticut. He has always loved to comb the beaches and hike in the woods, and now he does so with his wife, Chris, and seven year-old daughter, Sarah. This is the fourth book he has illustrated.