The Old Devils (Paperback)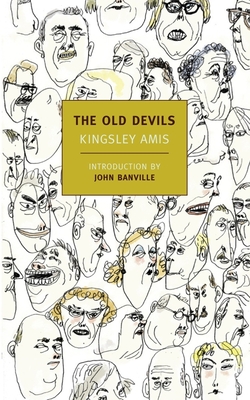 Staff Reviews
---
Unexpectedly Alun Weaver, television personality and man-of-letters, and his beguiling wife Rhiannon decide to leave England and return home to Wales. Once there they reunite with their old friends, a hard-drinking group of Welsh married couples, reawakening old friendships and romances.
Winner of the Booker Prize in 1986, The Old Devils is Kingsley Amis at his sardonic best, only this time he mixes in a lot of tenderness and compassion with witty dialogue and humor. Also enjoyable are his colorful and poignant descriptions of Wales.
~John
PS Check out Kingsley's earlier novels: the hilarious and wonderful Lucky Jim; and the very clever ghost story The Green Man.
— From
John
Description
---
Booker Prize Winner

A pub gathering of elderly married couples devolves into booze-inflected reminiscing—and complaining—in this "sharp and funny" English comedy about marriage, aging, and friendship (The Washington Post).
 
Age has done everything except mellow the characters in Kingsley Amis's The Old Devils, which turns its humane and ironic gaze on a group of Welsh married couples who have been spending their golden years—when "all of a sudden the evening starts starting after breakfast"—nattering, complaining, reminiscing, and, above all, drinking. This more or less orderly social world is thrown off-kilter, however, when two old friends unexpectedly return from England: Alun Weaver, now a celebrated man of Welsh letters, and his entrancing wife, Rhiannon. Long-dormant rivalries and romances are rudely awakened, as life at the Bible and Crown, the local pub, is changed irrevocably.

Considered by Martin Amis to be Kingsley Amis's greatest achievement—a book that "stands comparison with any English novel of the [twentieth] century"—The Old Devils confronts the attrition of ageing with rare candor, sympathy, and moral intelligence.
About the Author
---
Kingsley Amis (1922–1995) was a popular and prolific British novelist, poet, and critic, widely regarded as one of the greatest satirical writers of the twentieth century. Born in suburban South London, the only child of a clerk in the office of the mustard-maker Colman's, he went to the City of London School on the Thames before winning an English scholarship to St. John's College, Oxford, where he began a lifelong friendship with fellow student Philip Larkin. Following service in the British Army's Royal Corps of Signals during World War II , he completed his degree and joined the faculty at the University College of Swansea in Wales. Lucky Jim, his first novel, appeared in 1954 to great acclaim and won a Somerset Maugham Award. Amis spent a year as a visiting fellow in the creative writing department of Princeton University and in 1961 became a fellow at Peterhouse College, Cambridge, but resigned the position two years later, lamenting the incompatibility of writing and teaching ("I found myself fit for nothing much more exacting than playing the gramophone after three supervisions a day"). Ultimately he published twenty-four novels, including science fiction and a James Bond sequel; more than a dozen collections of poetry, short stories, and literary criticism; restaurant reviews and three books about drinking; political pamphlets and a memoir; and more. Amis received the Booker Prize for his novel The Old Devils in 1986 and was knighted by Queen Elizabeth II in 1990. He had three children, among them the novelist Martin Amis, with his first wife, Hilary Anne Bardwell, from whom he was divorced in 1965. After his second, eighteen-year marriage to the novelist Elizabeth Jane Howard ended in 1983, he lived in a London house with his first wife and her third husband.

John Banville was born in Wexford, Ireland, in 1945. He is the author of many novels, including The Book of Evidence, The Untouchable, Eclipse, The Sea (winner of the Man Booker Prize), and most recently, Ancient Light. As Benjamin Black he has written six crime novels, including the recently published Vengeance.
Praise For…
---
"Kingsley Amis's most ambitious book is neither a sendup nor an exercise in some established genre. It sets forth a large cast of characters rendered in depth as well as on the surface. The Old Devils is also Mr. Amis's most inclusive novel, encompassing kinds of feelings and tone that move from sardonic gloom to lyric tenderness."
—The New York Times

 "The talk is also exceedingly sharp and funny, and it brings the characters to life as only pungent dialogue can. His prose is as tart as ever, which is of course good news, but the softening effect of his feelings for his old devils is even more welcome. More than in any of his previous novels, Kingsley Amis has allowed himself to show a bit of heart; it becomes him."
—Jonathan Yardley, The Washington Post

The book is, of course, highly comic in parts, but it is not a cosy read. The comedy has a crematorium whiff, dealing with such unmentionable topics as death, old age, hate, the ghastliness of marriages, the awfulness of the Welsh and the decay of the flesh."
—The Times, London
 
"For long time admirers of the Amis of Lucky Jim and after, The Old Devils is welcomed evidence that the master remains masterful, able now to conjoin the mischievous with the mellow. As always, he is an insightful guide through the terrain where what is said is not meant and what is felt is not said, but where much of life is lived."
—The Los Angeles Times

"The old, robust masculine tradition of British comedy from Fielding and Smollett continues in our own vernacular."
—V.S. Prichett, The New Yorker