Tiny Sunbirds, Far Away: A Novel (Paperback)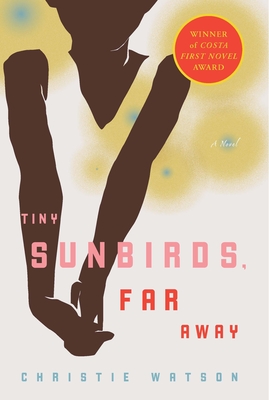 Staff Reviews
---
As I read Tiny Sunbirds, Far Away, I felt grateful to the author for writing this novel and taking me into a world so far removed from, yet just as real, as my own. This is the world of the Niger Delta where poverty along with political and religious confusion dominate daily life. Narrated by 12-year-old Blessing, the novel follows this young girl and her family as they are uprooted from their comfortable urban life in Lagos to a more challenging existence in her grandfather's compound in rural Warri. Blessing must confront this new world where extreme poverty is the norm, where foreign oil interests are destroying the environment, where bands of young men, so-called Freedom Fighters, use violence to protect their turf, and where the burgeoning practice of Islam threatens to compromise the lives of women. Through Blessing's compelling young voice we see her observing, learning, suffering and persevering, even coming to embrace her new circumstances.
Watson's characters are fully realized and memorable. Tiny Sunbirds,Far Away is beautifully told. It is impossible to read it and not be moved.
~Dawn
— From
Dawn
June 2011 Indie Next List
---
"'Haunting' and 'eye-opening' only begin to describe Tiny Sunbirds, Far Away. Blessing may only be 12 years old, but she speaks to us through her wise, yet innocent eyes about the upheaval of her family and her world in Nigeria. Forced from a comfortable urban setting in Lagos to the poverty-stricken, rural world of her mother's family, Blessing is without anchor except for the brother she would give her life for. This story of survival and the fight for dignity will linger long after you have finished reading."
— Lynn Riggs, Books & Company, Oconomowoc, WI
Description
---
Winner of the 2011 Costa First Novel Award

When their mother catches their father with another woman, twelve year-old Blessing and her fourteen-year-old brother, Ezikiel, are forced to leave their comfortable home in Lagos for a village in the Niger Delta, to live with their mother's family. Without running water or electricity, Warri is at first a nightmare for Blessing. Her mother is gone all day and works suspiciously late into the night to pay the children's school fees. Her brother, once a promising student, seems to be falling increasingly under the influence of the local group of violent teenage boys calling themselves Freedom Fighters. Her grandfather, a kind if misguided man, is trying on Islam as his new religion of choice, and is even considering the possibility of bringing in a second wife.
   But Blessing's grandmother, wise and practical, soon becomes a beloved mentor, teaching Blessing the ways of the midwife in rural Nigeria. Blessing is exposed to the horrors of genital mutilation and the devastation wrought on the environment by British and American oil companies. As Warri comes to feel like home, Blessing becomes increasingly aware of the threats to its safety, both from its unshakable but dangerous traditions and the relentless carelessness of the modern world. Tiny Sunbirds, Far Away is the witty and beautifully written story of one family's attempt to survive a new life they could never have imagined, struggling to find a deeper sense of identity along the way.
About the Author
---
Christie Watson is a British novelist and pediatric nurse. She holds an MA in Creative Writing from the University of East Anglia, where she won the Malcolm Bradbury Memorial Bursary, and has since published short fiction and other writings in numerous publications including Wasafiri, Mslexia, Index on Censorship, The Guardian, and The Telegraph. Watson teaches creative writing at various institutions including Birkbeck University, the Groucho Club, and Cambridge University. She has won the Costa First Novel Award and Waverton Good Read Award for her first novel, Tiny Sunbirds, Far Away, and was named one of Red's Hot Women of the Year in 2012. She lives in London.
Praise For…
---
Selected as one of CNN.com's 12 Good Summer Reads  

"A sure-footed debut narrated by 12-year-old Blessing, a girl growing up too fast in the troubled Niger Delta." —People Magazine

"[An] assured, absorbing first novel…Watson's cleanly told coming-of-age story generates real narrative momentum." —Cleveland Plain Dealer

"Watson is generous in her assessment of human nature, and her novel surprises even as its sense of danger is never truly at bay…[An] ultimately triumphant book."—Miami Herald

"[An] impressive debut…Watson's nuanced portrayal of daily life in Nigeria is peopled with flawed but tenacious characters who fight not only for survival but for dignity. Blessing is a wonderful narrator whose vivid impressions enliven Watson's sensual prose." —Publishers Weekly, starred review

"[An] absorbing first novel, told through the eyes of the bright and observant Blessing…a memorable debut novel about a Nigerian girl's coming of age." —Kirkus Reviews

"Confronting issues of race, class, and religion, this work ponders idealistic ignorance in a way that is reminiscent of Chinua Achebe's No Longer at Ease. Watson's story will appeal to readers of African and literary fiction." — Library Journal

"Through the lens of young girl's coming-of-age, this breakthrough novel views the politics of contemporary Nigeria, portraying the clash between traditional and modern as it affects one extended family." —Booklist

"A first novel that knows how to tell a story, concocting a voice that lures us. Perfect pitch is not reserved for musicians; some novelists have it, too. From the very first page of her very first book, Christie Watson proves she possesses it, creating a voice that tells a tale we can't put down." —Barnes and Noble Review

"An excellent novel. It takes the reader deep into the reality of ordinary life in Nigeria and is also funny, moving and politically alert." —Giles Foden, author of The Last King of Scotland
 
"Christie Watson's debut novel, set in the troubled Niger Delta, does what fiction does best, it captures place and characters so well that you feel you are also there. It is sincere, it is powerfully written, and it deserves to be read." —Helon Habila, author of Oil on Water, winner of the Commonwealth Prize
 
"Watson has written an immensely absorbing novel. It is both heart wrenching and consoling." —Chika Unigwe, author of On Black Sisters' Street
 
"A fascinating, poignant story that had me laughing in places and deeply moved in others." —Ike Anya
 
"Lyrical and beautifully drawn, a poignant coming-of-age tale, set in an Africa few readers will have experienced. A must-read." —Lesley Lokko, author of Sundowners, Saffron Skies, and Bitter Chocolate
 
"The gripping, triumphant tale of a girl who chooses life over loss, in a sweet but savage world where oil is bled from the earth." —Lola Shoneyin, author of The Secret Lives of Baba Segi's Wives