Defending Science - within Reason: Between Scientism And Cynicism (Paperback)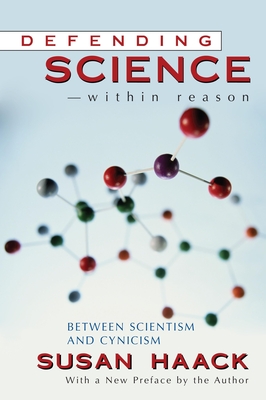 $19.99

usually available in 3-7 days
Description
---
Sweeping in scope, penetrating in analysis, and generously illustrated with examples from the history of science, this new and original approach to familiar questions about scientific evidence and method tackles vital questions about science and its place in society. Avoiding the twin pitfalls of scientism and cynicism, noted philosopher Susan Haack argues that, fallible and flawed as they are, the natural sciences have been among the most successful of human enterprises-valuable not only for the vast, interlocking body of knowledge they have discovered, and not only for the technological advances that have improved our lives, but as a manifestation of the human talent for inquiry at its imperfect but sometimes remarkable best.
This wide-ranging, trenchant, and illuminating book explores the complexities of scientific evidence, and the multifarious ways in which the sciences have refined and amplified the methods of everyday empirical inquiry; articulates the ways in which the social sciences are like the natural sciences, and the ways in which they are different; disentangles the confusions of radical rhetoricians and cynical sociologists of science; exposes the evasions of apologists for religious resistance to scientific advances; weighs the benefits and the dangers of technology; tracks the efforts of the legal system to make the best use of scientific testimony; and tackles predictions of the eventual culmination, or annihilation, of the scientific enterprise.
Writing with verve and wry humor, in a witty, direct, and accessible style, Haack takes readers beyond the "Science Wars" to a balanced understanding of the value, and the limitations, of the scientific enterprise.
About the Author
---
Susan Haack (Coral Gables, FL) is Cooper Senior Scholar in Arts and Sciences, professor of philosophy, and professor of law at the University of Miami. She is the author of numerous highly acclaimed books including Philosophy of Logics, Evidence and Inquiry, Deviant Logic, Fuzzy Logic: Beyond the Formalism, and Manifesto of a Passionate Moderate: Unfashionable Essays.