Love at First Bark: How Saving a Dog Can Sometimes Help You Save Yourself (Paperback)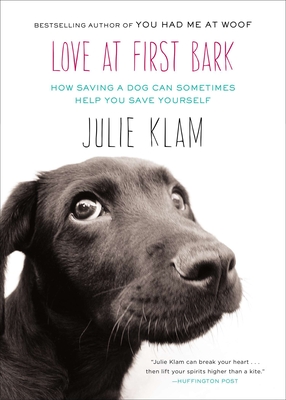 Description
---
Look out for Julie's new book, The Almost Legendary Morris Sisters.

In her bestselling memoir You Had Me at Woof, Julie Klam shared the secrets of happiness she learned as an occasionally frazzled but always devoted owner of Boston terriers. Now, with the same enchanting humor and poignancy that won the hearts of readers across the country, she returns with real-life stories about how in rescuing troubled dogs we can end up saving ourselves.

With wit and warmth, Julie Klam chronicles her adventures in finding a home for the world's sweetest pit bull, fostering a photogenic special-needs terrier, and diving under a train to save an injured stray in New Orleans. Along the way, she finds that helping dogs in their fight to survive puts our own problems in perspective, and shows that caring for others, be they canine or human, can sometimes be the best way to care for ourselves. A hilarious and moving testament to the powerful bond between people and dogs, this is a book for anyone whose life has been changed—for the better—by an animal.
About the Author
---
Julie Klam grew up in Bedford, New York. After attending NYU's Tisch School of the Arts and interning at Late Night with David Letterman, she went on to write for such publications as O, The Oprah Magazine, Rolling Stone, Harper's Bazaar, Glamour, and The New York Times Magazine, and for the VH1 television show Pop-Up Video, where she earned an Emmy nomination. She lives with her family and several dogs in Manhattan.
Praise For…
---
"Julie Klam is like Proust, if he wrote about dogs instead of madeleines, wrote in English instead of French, had better hair—and wrote exceptionally hilarious books that you can't help reading all at once."
—Patricia Marx

"[Julie Klam] can break your heart . . . then lift your spirits higher than a kite."
—The Huffington Post