National Geographic: Alaska Wall Map (40.5 X 30.25 Inches) (National Geographic Reference Map) (Other)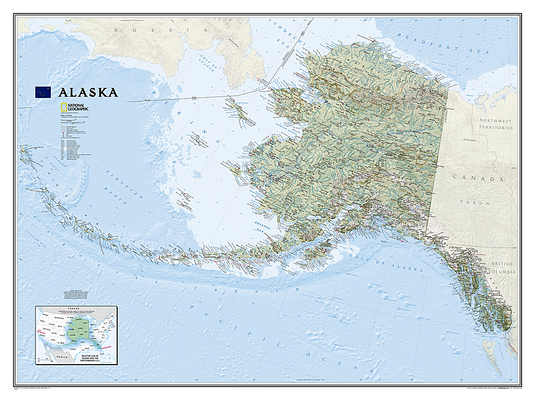 $29.95

Special Order - may be out of print
(This is a special order book which cannot be returned.)
Description
---
One of the largest and most detailed maps available for the North Star State. Rich shaded relief makes Alaska's incredibly diverse terrain easy to visualize and remarkably beautiful.
The map includes hundreds of named places including primary and secondary towns, political boundaries, infrastructure, hydrography, national parks, state parks, wilderness areas, major peaks, military reservations, and more. It shows Alaska in its entirety, including the entire 2,200 mile Aleutian Island chain that when mapping it in detail, cartographers almost always break it into sections for convenience. This map, however, portrays the entire State at the same scale on one wide sheet--offering an unparalleled perspective on Alaska's true size. Also found on the map is an inset map which displays Alaska's relative size to the conterminous U.S.
The map is packaged in a two inch diamater clear plastic tube. The tube has a decorative label showing a thumbnail of the map with dimensions and other pertinent information.
Map Scale = 1:3,660,000Sheet Size = 40.5 x 30.25