Joanna Russ: Novels & Stories (LOA #373): The Female Man / We Who Are About To . . . / On Strike Against God / The Complet e Alyx Stories / Other Stories (Hardcover)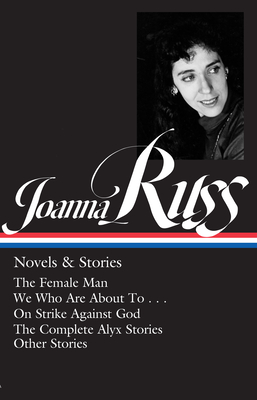 Description
---
Rediscover one of America's best SF writers in a definitive hardcover edition gathering all her finest work together for the first time

A LGBTQIA+ pioneer joins the Library of America series

An incandescent stylist with a dark sense of humor and a provocative feminist edge, Joanna Russ upended every genre in which she worked. The essential novels and stories gathered in this definitive Library of America edition make a case for Russ not only as an astonishing writer of speculative fiction, but, in the words of Samuel Delany, "one of the finest––and most necessary––writers of American fiction" period.

Here is her now-classic novel The Female Man (1975), in which four remarkable women––Jeannine, Janet, Joanna, and Jael––traverse alternate histories and parallel worlds (including the brilliantly imagined all-female utopia, Whileaway) in a multi-voiced, multidimensional voyage that continues to alter readers' sense of gender and reality.

We Who Are About To … (1977), recounting the fate of a misfit band of space-tourists stranded on an alien world, challenges "golden age" expectations about civilization, in what becomes an allegorical thriller.

In On Strike Against God (1980), her incisive, darkly comic, and ultimately joyous final novel, Russ returns to Earth to explore LGBTQIA+ and feminist themes and the unfamiliar territory of "coming out" and lesbian romance.

Russ's "Complete Alyx Stories"––which feature her inimitably sly, resilient, and stone-cold heroine Alyx, who is plucked from a life of petty crime in ancient Phoenicia to serve as adventurer-for-hire for the Trans-Temporal Authority, and which reinvent the sword and sorcery genre for a postmodern era––are presented in their entirety here for the first time, and newly restored to print.

Also included are her unforgettable tales "When It Changed" and "Souls," the former a 1973 Nebula Award winner and the latter the recipient of the 1983 Hugo and Locus Awards.
About the Author
---
Joanna Russ (1937–2011) is often described, along with Philip K. Dick and Ursula K. Le Guin, as one of the breakout stars of science fiction's "new wave" of the 1960s and 1970s. She taught at several prestigious universities and published influential feminist literary criticism alongside her fiction. In 1995, Russ received retrospective Tiptree Awards (for the best explorations of sex and gender in speculative fiction) for "When It Changed" and The Female Man. She was posthumously inducted into the Science Fiction and Fantasy Hall of Fame and named a Science Fiction and Fantasy Writers of America Grand Master.

Nicole Rudick, a former editor of The Paris Review, has written on art, literature, and comics for the New York Review of Books, the New Yorker, the New York Times, and Artforum. Her most recent book is What Is Now Known Was Once Only Imagined: An (Auto)biography of Niki de Saint Phalle.
Praise For…
---
"Together, these works and a few others showcase Russ's furious, chaotic style. ... Like listening to your smartest, funniest friend tell you why the whole world is garbage." —New York Times Book Review