Raising an Organized Child: 5 Steps to Boost Independence, Ease Frustration, and Promote Confidence (Paperback)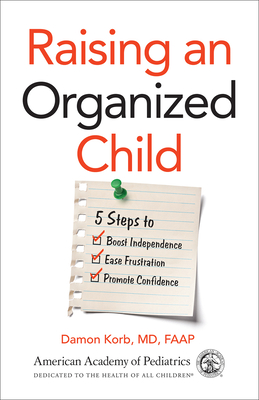 $16.95
usually available in 5-10 days
Description
---
Organized children are raised, not born. That's the philosophy behind this confidence-building, sanity-saving book. Fostering organized thinking in your child will help with concrete concerns (think a tidier bedroom!) and build critical life skills like learning to plan and grasping the big picture. Dr. Korb's 5 Steps to Raising an Organized Child apply to all ages. So, whether you have an infant or a teenager, it's never too late (or too early!) to foster organization in him or her and harmony in your whole family. Raising an Organized Child presents specific activities for your child's age and developmental level to improve executive function. No matter if your child is just your average chaotic kid or struggling with additional challenges like ADHD, you can boost your child's organization and lower your frustration with Dr. Korb's guidance.
About the Author
---
Damon Korb, MD, FAAP, is a practicing developmental and behavioral pediatrician and founder of the Center for Developing Minds. Dr. Korb is president of the Society for Developmental and Behavioral Pediatrics and an adjunct clinical instructor at Stanford University Medical Center. He is the father of 5 children and lives in Northern California.
Praise For…
---
"Dr Korb's advice will help parents reduce day-to-day frustrations with homework, routines, clutter, and more. But, more importantly, Dr Korb's guidance on boosting children's organizational skills and executive function will prepare today's toddlers and teens for success as adults." — Tanya Altmann, MD, FAAP, author of Baby and Toddler Basics
"I look forward to recommending this book to my patients, their families, and the readers of my blog! It offers readers concrete, practical, and well-described strategies parents can begin using right away." — Nerissa S. Bauer, MD, MPH, FAAP, behavioral pediatrician and blogger at "Let's Talk Kids Health"
"Dr Korb is to be commended for focusing parents' attention on their children's organizational capabilities as key components of success. His book is itself a model of organization, with (as Dr Korb would say) everything in its place." — Robert Needlman, MD, coauthor of Dr. Spock's Baby and Child Care and professor of pediatrics, Case Western Reserve University School of Medicine
"This book will help parents and educators of young children prevent disorganization while also illuminating the path for older students to overcome organization challenges. Organization is critically important, and Dr Korb gives hope for achieving it." — Craig Pohlman, PhD, author of Revealing Minds and How Can My Kid Succeed in School? and chief executive officer, Southeast Psych
"Dr Korb encourages parents to teach their children principles of organization as a guiding theme to understand and nurture emotional, social, and cognitive development." — Martin T. Stein, MD, professor emeritus of pediatrics, University of California San Diego, Rady Children's Hospital
"Parents look to the American Academy of Pediatrics for expert advice and here will find practical and helpful tips for developing executive function in children, whether special needs are present or not." — Library Journal
"Pediatrician and father of five Korb presents a useful and simple-to-follow set of steps for parents to take to foster organizational skills in their children. Korb provides suggestions and tasks geared to four main age groups—infants, preschoolers (3–5 years), school-age children (5–12), and teenagers—for both parent and child. However, for each age group, the 'five steps' remain the same: 'be consistent,' 'introduce order,' 'give everything a place,' 'practice forward thinking,' and 'promote problem-solving.' Throughout, Korb includes scripts for productive parent-child conversations and skill-developing games geared to different ages. Korb also traces how, as children advance in age and organizational skills, parental roles change, from 'coach' to school-age children to 'manager' for middle schoolers, and 'consultant' for high schoolers. Korb's examples are educational, especially one he shares to illustrate overbearing parenting—that of a couple who gave their high schooler son, on average, five hours of help with homework each night, resulting in disaster when he left the parental umbrella and entered college. Korb thus shows both how adults can help and when and why they need to let 'go of control.' The result is a kind, supportive guide that parents and children alike can profit from as they grow together." — Publishers Weekly