Spymistress: The True Story of the Greatest Female Secret Agent of World War II (Paperback)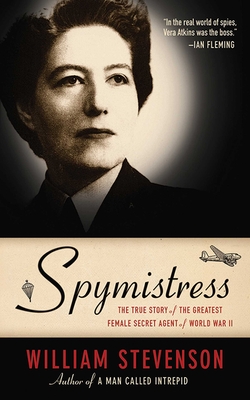 $16.99

usually available in 3-5 business days
Description
---
New York Times Bestseller! By the author of A Man Called Intrepid. The story of Vera Atkins, legendary spy and holder of the Legion of Honor

She was stunning. She was ruthless. She was brilliant and had a will of iron. Born Vera Maria Rosenberg in Bucharest, she became Vera Atkins. William Stephenson, the spymaster who would later be known as "Intrepid", recruited her when she was twenty-three.

Vera spent most of the 1930s running too many dangerous espionage missions to count. When World War II began in 1939, her many skills made her one of the leaders of the Special Operations Executive (SOE), a covert intelligence agency formed by, and reporting to, Winston Churchill. She trained and recruited hundreds of agents, including dozens of women. Their job was to seamlessly penetrate deep behind the enemy lines.

As General Dwight D. Eisenhower said, the fantastic exploits and extraordinary courage of the SOE agents and the French Resistance fighters "shortened the war by many months." They are celebrated, as they should be.

But Vera Atkins's central role was hidden until after she died; Author William Stevenson promised to wait and publish her story posthumously. Now, Vera Atkins can be celebrated and known for the hero she was: the woman whose beauty, intelligence, and unwavering dedication proved key in turning the tide of World War II.
About the Author
---
William Stevenson was a journalist and author of the bestselling books A Man Called Intrepid and 90 Minutes at Entebbe, He also worked as a movie scriptwriter, a television news commentator, and producer of award-winning documentaries. He died in 2013.