Hunter S. Thompson: The Last Interview: and Other Conversations (The Last Interview Series) (Paperback)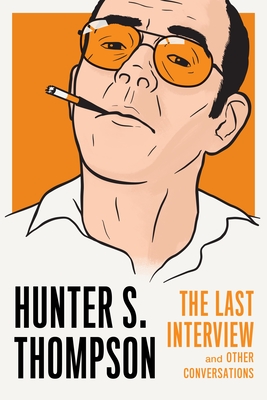 Description
---
Hunter S. Thompson was so outside the box, a new word was invented just to define him: Gonzo. He was a journalist who mocked all the rules, a hell-bent fellow who loved to stomp on his own accelerator, the writer every other writer tried to imitate. In these brutally candid and very funny interviews that range across his fabled career, Thompson reveals himself as mad for politics, which he thought was both the source of the country's despair and, just maybe, the answer to it. At a moment when politics is once again roiling America, we need Thompson's guts and wild wisdom more than ever.
About the Author
---
HUNTER S. THOMPSON (1937-2005) was the inventor and pretty much the sole practitioner of Gonzo journalism. His first book, Hell's Angels, is the definitive work on the motorcycle gang. Gonzo was born with the 1970 magazine article, The Kentucky Derby Is Decadent and Depraved, and reached a peak with Fear and Loathing in Las Vegas. His reporting on the 1972 campaign trail earned him accolades for being unafraid to tell the wretched truth about politics.  On the basis of those pioneering works, Thompson became a celebrity and lived a life of wild abandon. When he killed himself, he left a note saying "No more fun."


DAVID STREITFELD is the editor of The Last Interview books on Gabriel García Márquez, Philip K. Dick and J.D. Salinger, all published by Melville House. He is a reporter for The New York Times, where in 2013 he was part of the team awarded the Pulitzer Prize for Explanatory Reporting. He lives in the San Francisco Bay Area with his family and too many books.