War in the Chesapeake: The British Campaigns to Control the Bay, 1813-1814 (Hardcover)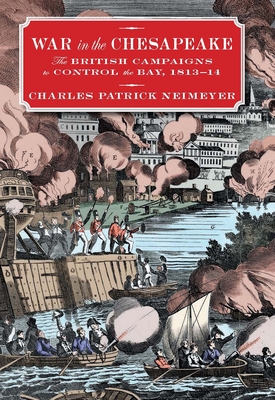 $44.95
Special Order - may be out of print
Description
---
In the early nineteenth century, the United States of America was far from united. The United States faced internal strife over the extent of governance and the rights of individual states. The United States' relationship with their former colonial power was also uncertain. Britain impressed American sailors and supported Native Americans' actions in the northwest and on the Canadian border. In the summer of 1812, President James Madison chose to go to war against Britain.
War in the Chesapeake
illustrates the causes for the War of 1812, the political impacts of the war on America, and the war effort in the Chesapeake Bay.
The book examines the early war efforts, when both countries focused efforts on Canada and the Northwest front. Some historians claim Madison chose to go to war in an attempt to annex the neighboring British territories. The book goes on to discuss the war in the Chesapeake Bay. The British began their Chesapeake campaign in an effort to relieve pressure on their defenses in Canada. Rear Admiral George Cockburn led the resulting efforts, and began to terrorize the towns of the Chesapeake. From Norfolk to Annapolis, the British forces raided coastal towns, plundering villages for supplies and encouraging slaves to join the British forces. The British also actively campaigned against the large American frigates- seeing them as the only threat to their own naval superiority.

War in the Chesapeake traces these British efforts on land and sea. It also traces the Americans' attempts to arm and protect the region while the majority of the American regular forces fought on the Northwest front. In the summer campaign of 1814, the British trounced the Americans at Bladensburg, and burned Washington, D.C. Afterwards, the Baltimoreans shocked the British with a stalwart defense at Fort McHenry. The British leaders, Vice Admiral Sir Alexander Cochrane and Major General Robert Ross, did not expect strong resistance after their quick victories at Bladensburg.

War in the Chesapeake tells the story of some of the earliest national heroes, including the defenders of Baltimore and naval leaders like John Rodgers and Stephen Decatur. The following December 1814, the United States and Britain signed the Treaty of Ghent, ending hostilities and returning North America to a peaceful status quo. The United States and neighboring Canada would not go to war on opposing sides again. The United States left the war slightly more unified and independent of the British.