What If It's Not Alzheimer's?: A Caregiver's Guide To Dementia (3rd Edition) (Paperback)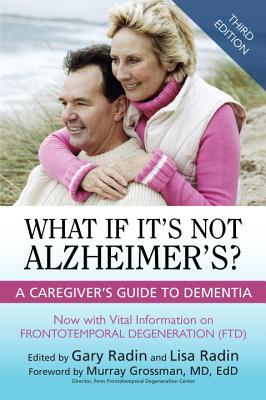 $19.00

Special Order - may be out of print
Description
---
Although the public most often associates dementia with Alzheimer's disease, the medical profession now distinguishes various types of "other" dementias. This book is the first and only comprehensive guide dealing with frontotemporal degeneration (FTD), one of the largest groups of non-Alzheimer's dementias. The contributors are either specialists in their fields or have exceptional hands-on experience with FTD sufferers.
           
Beginning with a focus on the medical facts, the first part defines and explores FTD as an illness distinct from Alzheimer's disease. Also considered are clinical and medical care issues and practices, as well as such topics as finding a medical team and rehabilitation interventions. The next section on managing care examines the daily care routine including exercise, socialization, adapting the home environment, and behavioral issues. In the following section on caregiver resources, the contributors identify professional and government assistance programs along with private resources and legal options. The final section focuses on the caregiver, in particular the need for respite and the challenge of managing emotions.
           
This new, completely revised edition follows recent worldwide collaboration in research and provides the most current medical information available, a better understanding of the different classifications of FTD, and more clarity regarding the role of genetics. The wealth of information offered in these pages will help both healthcare professionals and caregivers of someone suffering from frontotemporal degeneration.
About the Author
---
Gary Radin (Mullica Hill, NJ) and his mother, Lisa Radin (Las Vegas, NV), provided complete in-home care for father and husband Neil Radin over a four-year period. In 1998, they established the Neil L. Radin Caregivers Relief Foundation. They are both support-group facilitators and have been involved in planning and coordinating FTD caregiver conferences.

Praise For…
---
"What If It's Not Alzheimer's? is a must-read for anyone dealing with a diagnosis of dementia, especially FTD. The practical information, the resources, and the depth of understanding reflected in this book provide a comprehensive reference to guide and accompany a person throughout the journey."
—Susan L.-J. Dickinson, MS, CGC, executive director of the Association for Frontotemporal Degeneration
 
"I am certain that no other lay writers have been more dedicated to updating the vital information to help caregivers navigate the emotionally trying, ever-evolving landscape of early-onset, non-Alzheimer's dementia. These caregivers remain underserved, highlighting the importance of this book and of finding each other."
—Dr. Tiffany Chow, behavioral neurologist, author of The Memory Clinic
 
 
Praise for the first edition:

"[A]n updated handbook packed from cover to cover with tips and information for caregivers and sufferers alike." 
-- Bookwatch 

"[D]eals with a topic about which little has been written. ...an excellent resource....makes an important contribution to the family caregiving literature because of the biomedical and professional insight it offers into an important but rarely discussed type of dementia."
-- Canadian Journal on Aging