Survival Lessons (Hardcover)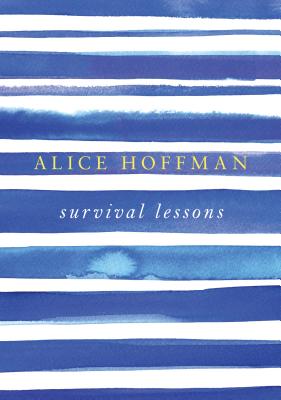 October 2013 Indie Next List
---
"Survival Lessons is a wise and beautiful book in which Hoffman shares openly and honestly about coping with illness. But don't wait for the difficult moments in life before reading this book! It's full of wonderful advice for anyone who wishes to live life fully. I plan on giving this to all of my friends this holiday season."
— Adrian Newell, Warwick's, La Jolla, CA
Description
---
One of America's most beloved writers shares her suggestions for finding beauty in the world even during the toughest times.

Survival Lessons provides a road map of how to reclaim your life from this day forward, with ways to reenvision everything—from relationships with friends and family to the way you see yourself. As Alice Hoffman says, "In many ways I wrote Survival Lessons to remind myself of the beauty of life, something that's all too easy to overlook during the crisis of illness or loss. I forgot that our lives are made up of equal parts of sorrow and joy, and that it is impossible to have one without the other. I wrote to remind myself that despite everything that was happening to me, there were still choices I could make."

Wise, gentle, and wry, Alice Hoffman teaches all of us how to choose what matters most.
About the Author
---
Normal.dotm00182468Algonquin3157412.00false18 pt18 pt00falsefalsefalse
Alice Hoffman has published twenty-one novels, three books of short fiction, and eight books for children and young adults. Her books have been published in more than twenty translations and more than one hundred foreign editions. Her novels, many of which have been New York Tiimes bestsellers, have received mention as notable books of the year by the New York Times, Entertainment Weekly, the Los Angeles Times, Library Journal, and People magazine. Alice's advance from Survival Lessons will be donated to the Hoffman Breast Center at Mount Auburn Hospital in Cambridge, Massachusetts.
Praise For…
---
"In this gem of a book, Alice Hoffman acknowledges the sorrows of life, while reminding us of its joys. Survival Lessons is filled with love, insight, and lots of practical advice--including a crazy-good brownie recipe. I'll be sharing this book widely, but keeping one copy permanently on my nightstand for all the times I'll need its wisdom and warmth." —Will Schwalbe, author of The End of Your Life Book Club

"Full of smart intentions and kind reminders . . . Uplifting advice we'll gladly take." —Better Homes & Gardens

"Very warm, humble, sometimes funny, infused with a spirit of optimism." —The Jewish Week

"The book is not about her breast cancer per se but about making choices (each chapter is titled "Choose…") that will improve readers' lives and relationships and remind them 'of the beauty of life.' More than cancer sufferers will be glad they picked up this tiny gem." —Library Journal

"It may be short, but it's powerful. An absolutely beautiful book." —Sue Monk Kidd

"Heartening." —Kirkus Reviews

"Writing with sparkling directness, warmth, humor, and long-steeped wisdom, Hoffman has created a companionable and genuinely useful book for times of crisis. Small, intimate, and lovely . . . Hoffman's storytelling artistry enlivens each intimate, thoughtfully distilled, charming, and nurturing lesson in living." —Booklist