Dead Lions (Hardcover)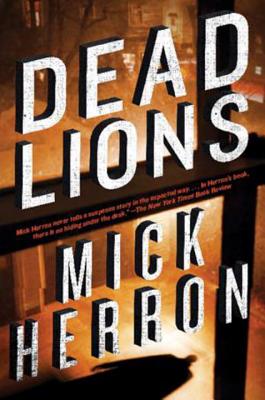 $25.95

Special Order - may be out of print
Description
---
The CWA Gold Dagger Award-winning British espionage novel about disgraced MI5 agents who inadvertently uncover a deadly Cold War-era legacy of sleeper cells and mythic super spies.
The disgruntled agents of Slough House, the MI5 branch where washed-up spies are sent to finish their failed careers on desk duty, are called into action to protect a visiting Russian oligarch whom MI5 hopes to recruit to British intelligence. While two agents are dispatched on that babysitting job, though, an old Cold War-era spy named Dickie Bow is found dead, ostensibly of a heart attack, on a bus outside of Oxford, far from his usual haunts.
But the head of Slough House, the irascible Jackson Lamb, is convinced Dickie Bow was murdered.As the agents dig into their fallen comrade's circumstances, they uncover a shadowy tangle of ancient Cold War secrets that seem to lead back to a man named Alexander Popov, who is either a Soviet bogeyman or the most dangerous man in the world. How many more people will have to die to keep those secrets buried?

About the Author
---
Mick Herronwas born in Newcastle and has a degree in English from Balliol College, Oxford. He is the author of two books in the Slough House series, Slow HorsesandDead Lions, as well as the standalone thrillerNobody Walks, and the novellaThe List. His work has been nominated for the Macavity, Barry, and Shamus Awards, and he has won the CWA Gold Dagger for Best Crime Novel. He lives in Oxford and works in London."
Praise For…
---
Praise for DEAD LIONS

WINNER OF THE 2013 CWA GOLD DAGGER FOR BEST CRIME NOVEL OF THE YEAR
A BBC FRONT ROW BEST CRIME NOVEL OF 2013
A TIMES CRIME AND THRILLER BOOK OF THE YEAR

"Smart, sharp British wit at its finest. A uniquely brilliant take on the British spy novel."
─Cara Black, New York Times bestselling author of Murder Below Montparnasse

"Funny, clever . . . Genuinely thrilling. The novel is equally noteworthy for its often lyrical prose."
─Publishers Weekly, Starred Review

"A great romp."
─Jeff Park, BBC Front Row

"Clever and funny."
─The Times

"Herron delivers unbeatable entertainment for thriller fans."
─Library Journal, Starred Review

"[A] wickedly clever send-up of the classic British spy novel."
─Crime Writers' Association

"If you like your suspense novels told with a smart dash of wit and sarcasm, filled with lots of twists and turns, Herron's your man."
─Shelf Awareness

"[Dead Lions] features some of the twistiest plotlines in crime fiction...[and] is beautifully written but also elegantly structured . . . Ever since finishing Slow Horses, I've been waiting for a possible sequel. Now that it's here, I have the pleasure of experiencing it, along with the pang of having finished it."
─International Noir Fiction

"Herron provides a dour, twisty spy thriller with something for everyone: part post–Cold War miasma, part James Bond heroics, and elliptical withal."
─Kirkus Reviews

"Dead Lions is at once a finely wrought thriller and a farcical, fiercely pointed tale of political greed and bureaucratic corruption. Mick Herron writes like a dream."
─Open Letters Monthly

"A surreal, cynical, yet amusing look at the world of British intelligence . . . a looking-glass world that features KGB undercover agents, a Russian oligarch, a text message on a mobile phone and the ghost of a fabled Soviet spymaster who may not be real . . . an amusing, serpentine plot that takes readers as far from the glamorous world of Ian Fleming's tuxedo-wearing spy as could be imagined."
─January Magazine, Best Books of 2013

"Full of style and cynical humor . . . Has all the punch-your-lights-out action of a movie thriller."
─Read Me Deadly


Praise for Mick Herron
 
"Mick Herron never tells a suspense story in the expected way . . . In Herron's book, there is no hiding under the desk."
─The New York Times Book Review
 
"Stylish and engaging."
─The Washington Post
 
"[A] masterful thriller . . . The intricate plot, coupled with Herron's breezy writing style, results in superior entertainment that makes most other novels of suspense appear dull and slow-witted by comparison."
─Publishers Weekly, Starred Review
 
"Like a good movie . . . grabs the reader from the first page."
─Booklist, Starred Review