Slow Horses (Slough House #1) (Paperback)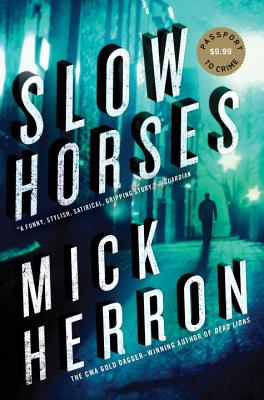 $9.99

Special Order - may be out of print
Other Books in Series
This is book number 1 in the Slough House series.
Staff Reviews
---
The first in the Slough House series, British writer, Herron, writes about assorted washed up MI5 spies trying to redeem their careers.  In one way or another these often dysfunctional operatives have sabotaged their standing within the organization and have been relegated to Slough House pencil pushing work. Desperate to regain their standing, they follow leads to suspicious murders and other activities, often amusingly, dodging the political machinations and Cold War secrets of the organization. A fun and diverting read.
— Fay
Description
---
The first book in CWA Gold Dagger Award-winning British espionage series starring a team of MI5 agents united by one common bond: They've screwed up royally and will do anything to redeem themselves. 

London, England: Slough House is where the washed-up MI5 spies go to while away what's left of their failed careers. The "slow horses," as they're called, have all disgraced themselves in some way to get relegated here. Maybe they messed up an op badly and can't be trusted anymore. Maybe they got in the way of an ambitious colleague and had the rug yanked out from under them. Maybe they just got too dependent on the bottle—not unusual in this line of work. One thing they all have in common, though, is they all want to be back in the action. And most of them would do anything to get there─even if it means having to collaborate with one another.

River Cartwright, one such "slow horse," is bitter about his failure and about his tedious assignment transcribing cell phone conversations. When a young man is abducted and his kidnappers threaten to broadcast his beheading live on the Internet, River sees an opportunity to redeem himself. But is the victim who he first appears to be? And what's the kidnappers' connection with a disgraced journalist? As the clock ticks on the execution, River finds that everyone has his own agenda.
About the Author
---
Mick Herron is a British novelist and short story writer who was born in Newcastle and studied English at Oxford. He is the author of six books in the Slough House series (Slow Horses, Dead Lions, Real Tigers, Spook Street, London Rules, and the novella The List) and four Oxford mysteries (Down Cemetery Road, The Last Voice You Hear, Why We Die, and Smoke and Whispers), as well as the standalone novels Reconstruction, Nobody Walks and This Is What Happened. His work has won the CWA Gold Dagger for Best Crime Novel, the Steel Dagger for Best Thriller, and the Ellery Queen Readers Award, and been nominated for the Macavity, Barry, Shamus, and Theakstons Novel of the Year Awards. He currently lives in Oxford and writes full-time.
Praise For…
---
Praise for Slow Horses

"It's just great fun."
—NPR, Morning Edition

"[Herron's] cleverly plotted page-turners are driven by dialogue that bristles with one-liners. Much of the humor comes from Herron's sharp eye for the way bureaucracies, whether corporate or clandestine, function and malfunction. The world of Slough House is closer to "The Office" than to 007."
—The Associated Press

"A funny, stylish, satirical, gripping story . . . Memorably seedy characters, sharp dialogue, complex plot. I'm hooked."
—The Guardian

"This is blackly funny, tense and worryingly plausible. The most enjoyable British spy novel in years."
—Mail on Sunday, Five-star Review

"[A] deliciously sleazy and sophisticated spy thriller." 
—The Irish Times

"These are terrific novels. The writing is very good. The sense of humour is there, and there's a certain amount of skepticism as well, which keeps you wanting to read."
—J.D. Singh, CBC's The Next Chapter

"Subtle, detailed and utterly convincing."
—The Crime Review (UK)

"Slow Horses is a fine thriller . . . it's also a wonderfully funny, farcical, deeply cynical skewering of politics, bureaucrats, turf wars, and the Great Game."
—Booklist


Praise for Mick Herron

"Mick Herron never tells a suspense story in the expected way . . . In Herron's book, there is no hiding under the desk."
—The New York Times Book Review

"The sharpest spy fiction since John Le Carré."
—NPR's Fresh Air

"Stylish and engaging."
—The Washington Post

"[A] masterful thriller . . . The intricate plot, coupled with Herron's breezy writing style, results in superior entertainment that makes most other novels of suspense appear dull and slow-witted by comparison."
—Publishers Weekly, Starred Review

"Like a good movie . . . grabs the reader from the first page."
—Booklist, Starred Review