The Crumrin Chronicles Vol. 1: The Charmed and the Cursed (Courtney Crumrin #1) (Paperback)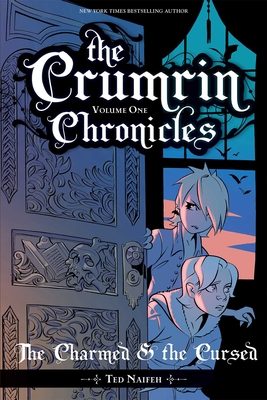 $14.99

usually available in 3-7 days
Other Books in Series
This is book number 1 in the Courtney Crumrin series.
Description
---
In this new spin-off from the New York Times bestselling Courtney Crumrin series the powerful young sorceress Courtney Crumrin has battled against all manner of evil forces, but helping her little brother Will navigate high school might be the death of her.

To help Will Crumrin adapt to the mortal world after a hundred years in the twilight realm of faeries, sis big sister Courtney makes him a glamor charm that renders him the most popular kid in school. But he eventually finds popularity a prison, in which he's surrounded by people who neither know nor care about the real him. When football star Ross, jealous of Will's friendship with outcast Tucker, bullies her relentlessly, Will decides to turn him in, give up the false popularity of the charm. But Ross retaliates against Will, prompting Courtney to take revenge using magic. But her activity draws the attention of Emil Gorka, an ancient, powerful vampire.

Once driven into hiding by Courtney's former mentor, Uncle Aloysius, Gorka has reemerged under the guise of a corporate CEO. Everyone in town works for him, including Courtney and Will's clueless parents. But he wants Courtney, a powerful but inexperienced young sorceress as his servant. And to save Will from his dreadful bite, she must surrender herself. Now only Will, with the help of his best friend Tucker, can save Courtney from eternal servitude to the undead monster and his unquenchable hunger for blood and power.

PRAISE FOR COURTNEY CRUMRIN:

"Fans of 'Sabrina the Teenage Witch' who wanted a deeper, more mature story, your cries to the comic goddess have been answered." — CNN
About the Author
---
Ted Naifeh first appeared in the independent comics scene in 1999 as the artist for Gloomcookie, the goth romance comic he co-created with Serena Valentino for SLG Publishing. After a successful run, Ted decided to strike out on his own, writing and drawing Courtney Crumrin and the Night Things, a spooky children's fantasy series about a grumpy little girl and her adventures with her Warlock uncle. Nominated for an Eisner Award for best limited series, Courtney Crumrin's success paved the way for Polly and the Pirates, another children's book, this time about a prim and proper girl kidnapped by pirates convinced she was the daughter of their long-lost queen. Over the next few years, Ted wrote four volumes of Courtney Crumrin, plus a spin off book about her uncle. He also co-created How Loathsome with Tristan Crane, and illustrated two volumes of the videogame tie-in comic Death Junior with screenwriter Gary Whitta. More recently, he illustrated The Good Neighbors, a three volume graphic novel series written by New York Times best-selling author Holly Black, published by Scholastic. In 2011, Ted wrote the sequel to Polly and the Pirates, and illustrated several Batman short stories for DC Comics. In 2012, to celebrate the 10th anniversary of Courtney Crumrin, he wrote and illustrated the final two volumes of the series. Currently, you can find Ted everywhere: from the pages of Batman '66 to his newest original series for adults, Night's Dominion. Ted lives in San Francisco, because he likes dreary weather.