September 1918: War, Plague, and the World Series (Hardcover)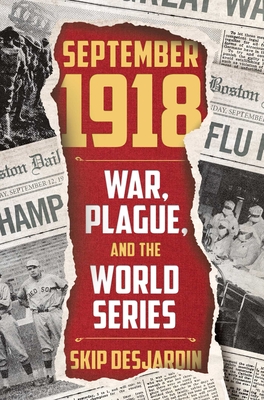 $29.99
usually available in 5-10 days
Description
---
One hundred years ago, in September 1918, three things came to Boston: war, plague, and the World Series.

This is the unimaginable story of that late summer month, in which a division of Massachusetts militia volunteers led the first unified American fighting force into battle in France, turning the tide of World War I. Meanwhile the world's deadliest pandemic—the Spanish Flu—erupted in Boston and its suburbs, bringing death on a terrifying scale first to military facilities and then to the civilian population. At precisely the same time, in a baseball season cut short on the homefront and amidst the surrounding ravages of death, a young pitcher named Babe Ruth rallied the sport's most dominant team, the Boston Red Sox, to a World Series victory—the last World Series victory the Sox would see for 86 years.

In September 1918: War, Plague and the World Series, the riveting, intertwined stories of this remarkable month introduce readers to a richly diverse cast of characters: David Putnam, a Boston teenager and America's World War I Flying Ace; a transcendent Babe Ruth and his teammates, battling greedy owners and a hostile public; entire families from all social strata, devastated by sudden and horrifying influenza death; unknown political functionary Calvin Coolidge, thrust into managing the country's first great public health crisis by an absentee governor; and New England's soldiers, enduring trench warfare and poisonous gas to drive back German forces.

At the same time, other stories were also unfolding: Cambridge high school football star Charlie Crowley, a college freshman teamed up with stars Curly Lambeau and George Gipp under a first-time coach named Knute Rockne; Boston suffrage leader Maud Wood Park was fighting for women's right to vote, even as they flexed their developing political muscle; poet E.E. Cummings, an Army private found himself stationed at the center of a biological storm; and Massachusetts Senator Henry Cabot Lodge maneuvered as the constant rival of a sitting wartime president.

In the tradition of Erick Larsen's bestselling Devil in the White City, September 1918 is a haunting three-dimensional recreation of a moment in history almost too cinematic to be real.
About the Author
---
A thirty-year veteran of the media, Skip Desjardin has been a journalist, an on-air television anchor, a producer and a programming executive. He was at the forefront of television innovation, playing critical roles in the development of regional sports networks, pay-per-view, video-on-demand, interactive television, and digital media storytelling for companies such as ESPN and Time Warner. Now he is reinventing television again as an executive at Google, building the influential Google Fiber TV and internet project.

His writing career began as a beat writer, columnist and ultimately sports editor of the student newspaper at the University of Notre Dame, from which he holds a B.A. in American Studies and an M.A. in Communications. While he was at Notre Dame, the Associated Press also distributed many of his stories nationally. In the late 1980s he was a reporter for the Lewiston Sun-Journal in Lewiston, Maine. More recently, writing under the pen name Rick Blaine, he generated over a million story views writing about Notre Dame football and Boston Red Sox baseball for Yahoo!

Skip Desjardin is the brother of noted historian Thomas Desjardin, author of several books on the Revolutionary and Civil Wars. He is a lifelong New England resident who currently lives in West Hartford, CT.