Soil Not Oil: Environmental Justice in an Age of Climate Crisis (Paperback)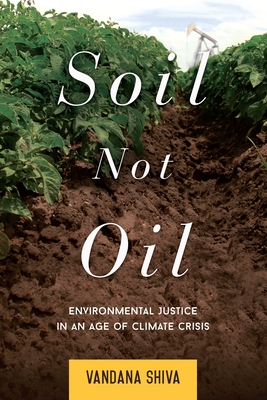 $14.95

usually available in 3-5 business days
Description
---
This modern-day Silent Spring addresses climate change head on, arguing that the solution to this global crisis lies in sustainable, biologically diverse farms
 
In Soil Not Oil, Vandana Shiva explains that a world beyond dependence on fossil fuels and globalization is both possible and necessary. Condemning industrial agriculture as a recipe for ecological and economic disaster, Shiva champions the small, independent farm: their greater productivity, their greater potential for social justice as they put more resources into the hands of the poor, and the biodiversity that is inherent to the traditional farming practiced in small-scale agriculture. What we need most in a time of changing climates and millions who are hungry, she argues, is sustainable, biologically diverse farms that are more resistant to disease, drought, and flood. "The solution to climate change," she observes, "and the solution to poverty are the same." Soil Not Oil proposes a solution based on self-organization, sustainability, and community rather than corporate power and profits.
About the Author
---
Vandana Shiva is a physicist, world-renowned environmental thinker and activist, and a tireless crusader for economic, food, and gender justice. She is the author and editor of many influential books, including Making Peace with the Earth, Earth Democracy, Staying Alive, Stolen Harvest, Water Wars, and Globalization's New Wars. Dr. Shiva is the recipient of more than twenty international awards, among them the Right Livelihood Award (1993); the John Lennon-Yoko Ono Grant for Peace (2008); The Sydney Peace Prize (2010); and the Calgary Peace Prize (Canada, 2011). In addition, she is a board member of the World Future Council and one of the leaders and board members of the International Forum on Globalization (whose other members include Jerry Mander, Edward Goldsmith, Ralph Nader, and Jeremy Rifkin). She travels frequently to speak at conferences around the world.
Praise For…
---
"One of the world's most prominent radical scientists."
—The Guardian

"Shiva … has devoted her life to fighting for the rights of the ordinary people of India.… Her fierce intellect and her disarmingly friendly, accessible manner have made her a valuable advocate for people all over the developing world."
—Ms. magazine

"Shiva is a burst of creative energy, an intellectual power."
—The Progressive

"A leading thinker who has eloquently blended her views on the environment, agriculture, spirituality, and women's rights into a powerful philosophy."
—Utne Reader