The Cedar Choppers: Life on the Edge of Nothing (Sam Rayburn Series on Rural Life, sponsored by Texas A&M University-Commerce #24) (Hardcover)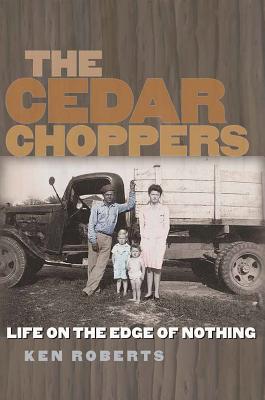 $27.95
Special Order - may be out of print
Description
---
At the low-water bridge below Tom Miller Dam, west of downtown Austin, during the summer of his tenth or eleventh year, Ken Roberts had his first encounter with cedar choppers. On his way to the bridge for a leisurely afternoon of fishing, he suddenly found himself facing a group of boys who clearly came from a different place and culture than the middle-class, suburban community he was accustomed to. Rather, ". . . they looked hard—tanned, skinny, dirty. These were not kids you would see in Austin." When Roberts's fishing companion curtly refused the strangers' offer to sell them a stringer of bluegills, the three boys went away, only to reappear moments later, one of them carrying a club. Roberts and his friend made a hasty retreat.

This encounter provoked in the author the question, "Who are these people?" The Cedar Choppers: Life on the Edge of Nothing is his thoughtful, entertaining, and informative answer. Based on oral history interviews with several generations of cedar choppers and those who knew them, this book weaves together the lively, gritty story of these largely Scots-Irish migrants with roots in Appalachia who settled on the west side of the Balcones Fault during the mid-nineteenth century, subsisting mainly on hunting, trapping, moonshining, and, by the early twentieth century, cutting, transporting, and selling cedar fence posts and charcoal.

The emergence of Austin as a major metropolitan area, especially after the 1950s, soon brought the cedar choppers and their hillbilly lifestyle into direct confrontation with the gentrified urban population east of the Balcones Fault. This clash of cultures, which provided the setting for Roberts's encounter as a young boy, propels this first book-length treatment of the cedar choppers, their clans, their culture and mores, and their longing for a way of life that is rapidly disappearing.
About the Author
---
KEN ROBERTS is retired from Southwestern University in Georgetown, Texas, where he held the Cullen Chair of Economics. His teaching and research focused on the effects of economic change on rural people, first in Mexico and then in China. He and his family have lived on a ranch outside Liberty Hill, Texas, for more than forty years.
Praise For…
---
"Ken Roberts offers the first book-length, scholarly account of the Hill Country cedar choppers, a linked assemblage of 'clans' of Appalachian whites who settled in in the mountain juniper country west of Austin during the 19th century. This "hillbilly" part of the Hill Country has been little written about. Roberts has created a fine historical portrait of a group of marginalized, hyper-independent, combative, white people, who lived 'On the Edge of Nothing' in more ways than one." —Thad Sitton, coauthor of Caddo: Visions of a Southern Cypress Lake and author of Backwoodsmen: Stockmen and Hunters along a Big Thicket River Valley
— Thad Sitton

"Meticulously researched and engagingly written, Ken Roberts' The Cedar Choppers leads us on a fascinating journey to the heart of this legendary Texas subculture." — Steven L. Davis, PEN USA-winning author and past president, Texas Institute of Letters
— Steven L. Davis

"Meant first for general audiences but badly needed by scholars, the work brings a neglected group into the southwestern history canon. . . . a readable, conversational narrative."—Southwestern Historical Quarterly
— Southwestern Historical Quarterly