Harlow in Hollywood, Expanded Edition: The Blonde Bombshell in the Glamour Capital, 1928-1937 (Hardcover)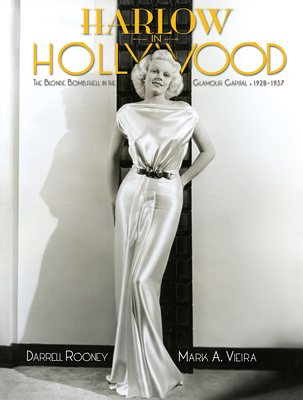 Description
---
The most celebrated biography of Hollywood's Blonde Bombshell, Harlow in Hollywood is now updated with rare images and additional details about her remarkable life and its tragic end.
At last, the story of how Hollywood shaped a myth and determined a young woman's reality. A town, a remarkable town, became the backdrop for one of Hollywood's most incredible stories, a life rife with glamour, pleasure, power, and--in the end--utter sorrow. Her story lives in the pages and breathtaking pictures of Harlow in Hollywood.
When Jean Harlow became the Blonde Bombshell, it was all Hollywood's doing. She was the first big-screen sex symbol, the Platinum Blonde, the mold for every famous fair-haired superstar who would emulate her. Yes; even Marilyn Monroe followed Harlow's lead. In her short decade in Hollywood, Harlow created a new genre of movie star--her fans idolized her for her peerless image, her beautiful body, and her gorgeous fa ade. Harlow in Hollywood is the story of how a town and an industry created her, a story that's never been told before.
In these pages, renowned Harlow expert Darrell Rooney and Hollywood historian Mark Vieira team to present the most beautiful--and accurate--book on Harlow ever produced. With more than 280 rare images, the authors not only make a case for Harlow as an Art Deco artifact, they showcase the fabulous places where she lived, worked and played from her white-on-white Beverly Glen mansion to the Art Deco sets of Dinner at Eight to the foyer of the Caf Trocadero. Harlow in Hollywood is a must for every film buff, Harlow collector, and book lover. Like Harlow herself, Harlow in Hollywood is irresistible.
About the Author
---
Darrell Rooney has one of the world's most significant collections of Jean Harlow photographs and memorabilia. A Hollywood insider, Rooney is an animator and director best known for his Annie Award-winning direction of The Lion King 2: Simba's Pride. Harlow in Hollywood is his first book. He resides in Los Angeles.Mark A. Vieira is a filmmaker, photographer, and writer specializing in Hollywood history. His previous books include Hurrell's Hollywood Portraits, Irving Thalberg: Boy Wonder to Producer Prince, and, with Tony Curtis, The Making of Some Like It Hot. He maintains a portrait studio in the historic Granada Buildings in Los Angeles.