Midnight Matinees (hardback): Cult Cinema Classics (1896 to the present day) (Hardcover)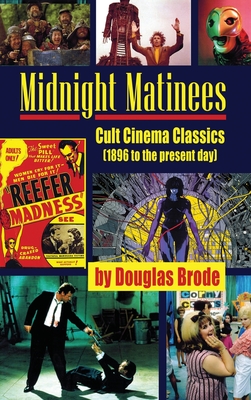 $42.00

usually available in 3-5 business days
Description
---
From the earliest days of moving pictures, there have been the big blockbusters... Birth of a Nation, The Gold Rush, Sunrise, The Crowd... featured the loftiest stars, most renown directors, largest budgets, garnering the strongest reviews. Most famous of them all? Gone With the Wind (1939).
During that classic year for Tinseltown, another film did not fare nearly so well at the box-office. The Wizard of Oz was written off as a failure.
Then came television. CBS executives decided to air Wizard one Sunday evening, wondering how it might do. Ratings were beyond belief. From then on, once a year, T.W.O.O. would air, people of all ages eagerly awaiting 'the event.' They could not have known then that they were members of a 'cult following.' For T.W.O.O. swiftly became one of many wonderful, weird, whacky movies, too unique and original for the mainstream on original release, yet deeply appealing to aficionados. Wherever they live, devotees of previously misbegotten movies became a far-spread community of fans. 'Cultists, ' if you will.
Here are over 500 of the most enduring. Midnight Matinees offers a virtual encyclopedia of such 'special' pictures from their origination in the 1890s to the cutting-edge work being turned out today. Featuring more than 300 pictures, mostly rare, many never before published.
This volume is more for fans of Orson Welles, Hollywood maverick, than John Ford, crowd-pleasing genius. If Joan Crawford was your favorite noir femme fatale, forget about it Marie Windsor? That's the ticket
And when it comes to a superstar like Marilyn Monroe, don't look for the gleeful Gentlemen Prefer Blondes, though The Misfits vividly recalls her darkest days... and finest acting
As cultists like to say: 'Long live Tuesday Weld.' Not in Wild In the Country, mind you, opposite Elvis Presley. Instead, Pretty Poison.
A cult queen in a midnight matinee.