Nicklas Lidstrom: The Pursuit of Perfection (Hardcover)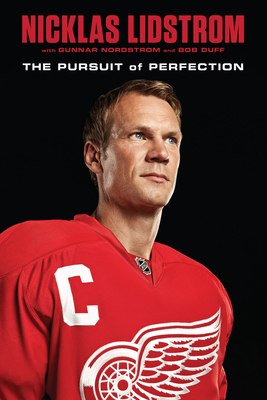 Description
---
The life and career of Nicklas Lidstrom almost reads like a real-life hockey fairy tale. Drafted by the Detroit Red Wings as a 19-year-old defenseman out of his native Sweden, Lidstrom spent the next two decades manning the Motor City blueline. During those years he became a Hockeytown legend, amassing a mind-boggling collection of accomplishments and accolades: four Stanley Cups, seven Norris Trophies as the NHL's best defenseman, a Conn Smythe Trophy, 12 All-Star selections, and gold medals in both the Olympics and World Championships.
Off the ice, life appears equally idyllic: Lidstrom is uniformly respected and admired by opponents, observers, and teammates alike, and he and his wife of more than 20 years have four boys who split their time between Sweden and their adopted homeland.
Perhaps only one question remains unanswered about the man teammates referred to as the Perfect Human: exactly how did he do it?
In Nicklas Lidstrom: The Pursuit of Perfection, the Hall of Fame defenseman and a who's-who of hockey luminaries investigate and reveal precisely how he made dominating the game he loves appear so effortless. How did an unimposing prospect catch the eye of Red Wings scouts during an era when few Swedes made it to the NHL? What was the secret to his remarkable endurance and longevity, allowing him to miss just 44 games in 20 grueling NHL seasons? And what level of preparation and study was required to transform a man who was not the biggest or fastest at his position into one of the greatest defensemen in hockey history?
You'll find the answers to all of this and more in Nicklas Lidstrom: The Pursuit of Perfection
About the Author
---
NICKLAS LIDSTROM won four Stanley Cups and seven Norris Trophies during his 20 seasons with the Detroit Red Wings. He was inducted into the Hockey Hall of Fame in 2015.
GUNNAR NORDSTROM is a Los Angeles-based journalist covering the NHL for the Expressen newspaper in Sweden. He is the author of several books, including Lidstrom: Captain Fantastic, published by Sportforlaget.
BOB DUFF has written extensively for the Windsor Star, MSNBC.com, and Hockey Weekly. He is the author of several books about hockey, including If These Walls Could Talk: Detroit Red Wings, with Ken Daniels.
Praise For…
---
"Nicklas Lidstrom is the greatest player I ever played with. He was just consistently the workhorse of our hockey team, kind of the backbone of the whole team." —STEVE YZERMAN, longtime Detroit Red Wings captain

"Nick Lidstrom is a true role model. He's someone for our community, for Hockeytown, to trust, to admire, to respect. As good of a player as he was, he was a better man and better teammate." —MIKE BABCOCK, former Red Wings head coach

"I'm aware of what a big part Nick played in my career, both on and off the ice. I have not played with anyone better. Just look at what he has accomplished. It's mind-boggling." —HENRIK ZETTERBERG, former Red Wings captain

"He was just a wonderful player. One of a kind. As to who's the best ever, it's tough to rate this guy here and that guy there. I will say I don't rate anyone ahead of Lidstrom." —SCOTTY BOWMAN, former Red Wings head coach

"I don't think people realize, still, how good he really was. There's no one like him, and there probably never will be another guy like him." —NIKLAS KRONWALL, Red Wings defenseman

"He is the best I ever played against. If you go back 100 years and start counting Bobby Orr and others, Lidstrom is top five, for sure. But during my career, and if you include Shea Weber, Zdeno Chara, and Drew Doughty, my No. 1 is Nicklas Lidstrom." —EVGENI MALKIN, Pittsburgh Penguins forward

"The mark Nick left on the NHL and the hockey world is that he was a picture of perfection. Not only was Nick one of the best players to ever play his position, but he is also one of the greatest gentlemen to ever play in the NHL." —PIERRE McGUIRE, analyst for the NHL on NBC

"Nick Lidstrom was obviously a legend in this league and in the hockey world. He was somebody I looked up to as a young player. I really wanted to be him. I'm not close to being there, but I'm working hard at it." —DREW DOUGHTY, Los Angeles Kings defenseman

"He was so smart and knew when to step up and make plays, score big goals. He was just kind of the ultimate leader. Playing against him as a young guy, you learned a lot." —SIDNEY CROSBY, Pittsburgh Penguins forward