Six Rings: The Super Bowl History of the New England Patriots (Paperback)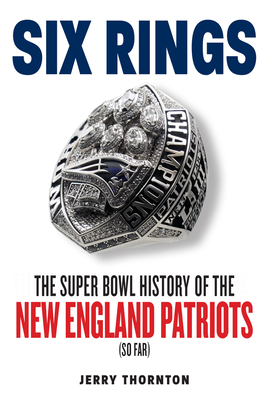 $19.95

usually available in 3-7 days
Description
---
Revised and updated for 2020!

The New England Patriots' feat of six Super Bowls in 17 years represents the gold standard of dominance every sports franchise strives for. With Bill Belichick and Tom Brady at the helm, the Patriots' unlikely victory back in February 2002 became a fulcrum that tipped decades of failure into a run of dynastic success. In this revised and updated edition, bestselling author Jerry Thornton provides a behind-the-scenes look at each of the team's six championships, revealing the adversity they faced and reveling in the hard-fought victories they earned. This is the story of a franchise, a culture, and a people told from a true fan's perspective. It's about a franchise that has seemingly dealt only in extremes, hated by the nation in a way that has only fortified the strength of its supporters. Most of all, it's a story about remarkable people defying history to write their own. Six Rings is the must-read account of this unforgettable era in football.
About the Author
---
Jerry Thornton writes daily for Barstool Sports and co-hosts their NFL podcast Laces Out. He's a stand up comic working clubs all over the northeast and is author of From Darkness to Dynasty: The First 40 Years of the New England Patriots and Six Rings: The Super Bowl History of the New England Patriots.