Now or Never!: Fifty-Fourth Massachusetts Infantry's War to End Slavery (Hardcover)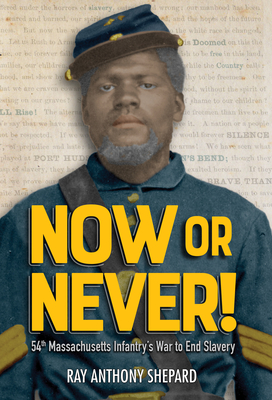 Description
---
Kirkus Reviews Best Children's Book

Here is the riveting dual biography of two little-known but extraordinary African-American Union soldiers in Civil War history—George E. Stephens and James Henry Gooding.

Stephens and Gooding not only served in the Massachusetts 54th Infantry, the well-known black regiment, but were also war correspondents who published eyewitness reports of the battlefields. Their dispatches told the truth of their lives at camp, their intense training, and the dangers and tragedies on the battlefield. Like the other thousands of black soldiers in the regiment, they not only fought against the Confederacy and the inhumanity of slavery, but also against injustice in their own army. The regiment's protest against unfair pay resulted in America's first major civil rights victory—equal pay for African American soldiers. This fresh perspective on the Civil War includes an author's note, timeline, bibliography, index and source notes.
About the Author
---
Ray Anthony Shepard is the grandson of a slave and was the first African American editor-in-chief of a major educational publishing house. He holds an MAT from Harvard Graduate School of Education, where he received a Martin Luther King Jr. Fellowship from the Woodrow Wilson Foundation. He has taught at Phillips Andover Academy and Brandeis University. He lives in Lincoln, Massachusetts. rayanthonyshepard.com
Praise For…
---
★ "Two black Civil War soldiers and writers offer unique perspectives about how they fought on and off the battlefield... both showing a different side of the war to blacks and abolitionists. Author Shepard does a great job using the dispatches from these men to form the basis for this narrative. The most impressive contribution is how the individual voices of (the soldiers) are in the forefront with their similarities and distinctions. This is a powerful use of primary resources, one that illuminates the lives of its subjects but never gets in the way of their remarkable stories. Rich backmatter provides useful information. Absolutely stellar." —Kirkus Reviews, starred review

★ "Written from the points of view of...the first African American war correspondents—fascinating, often brutal details from their experiences as soldiers in the 54th Infantry make up the backbone of this meticulously researched and highly readable history. This book will greatly enhance Civil War studies, leading to a deeper understanding of the African American plight throughout history and the racial prejudice that continues to this day. Teachers can also use this text to show how primary documents are critical to unbiased historical accounts. Documents and photographs add much interest and authenticity to the text." —School Library Connection, starred review

"The author will captivate readers with masterfully built suspense...The context of the war and the political climate of the country are interjected along with the complexity of sentiments about African Americans...The inclusion of a time line, maps, drawings, and photographs...further enriches the narrative...this is an excellent addition to the history."—School Library Journal

This well-researched volume is recommended for students who want to dig a little deeper into the history of the 54th Massachusetts Infantry Regiment." —Booklist

"This timely and important book…gives readers a unique and honest look at the Civil War, different from what is traditionally taught in classrooms (and) packs an impressive amount of detailed information, as well as emotional punch….perfect for both junior high and senior high school research, as well as for any reader interested in African American history and Civil War history. This is a highly recommended purchase for libraries serving young adults.—VOYA