Walking the Cape and Islands: A Comprehensive Guide to the Walking and Hiking Trails of Cape Cod, Martha's Vineyard, and Nantucket (Paperback)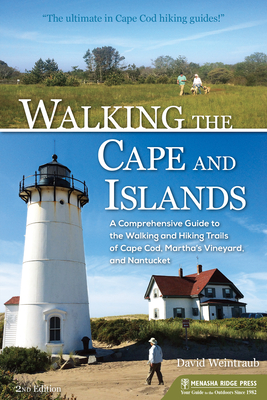 $22.95

usually available in 3-7 days
Description
---
The best walking and hiking trails in the beloved Massachusetts region
Pine forests, windswept dunes, freshwater ponds, salt marshes, and wave-washed beaches, enjoy it all as you stroll along the beautiful trails of Cape Cod, Martha's Vineyard, and Nantucket. Walking the Cape and Islands is the only comprehensive guide to this incredible area. Experience scenic Cape Cod National Seashore, Nickerson State Park, Martha's Vineyard and Nantucket land bank and conservation areas, Massachusetts Audubon properties, and many other parks and open spaces.
Suitable for all abilities, the book's 72 walks and hikes range in length from less than a mile to just under 11 miles. Families with children will especially enjoy many of the shorter, easier walks. Each entry includes a Walk Summary, which provides a helpful snapshot of the route. Plus, the book describes the area's rich human and natural history, climate, geology, and more. At-a-Glance Info offers details such as distance, difficulty, walk time, trail surface, facilities available, and whether bicycles, dogs, or hunting area allowed.
Now in full color, the new edition offers photographs and professionally drawn maps, paired with descriptions that take you step by step along the route. So whether you are a visitor or resident, let author David Weintraub guide you to some of the best walking and hiking trails in coastal New England.
About the Author
---
David Weintraub is a writer, photographer, and educator based in South Carolina and Cape Cod. His other books are Adventure Kayaking: Cape Cod and Martha's Vineyard, Afoot and Afield: San Francisco Bay Area, Top Trails: San Francisco Bay Area, East Bay Trails, North Bay Trails, Monterey Bay Trails (all published by Wilderness Press), and Peninsula Tales and Trails (Graphic Arts Books). David's articles and photographs have appeared in such magazines as the American Bar Association Journal, Audubon, Backpacker, Entrepreneur, Forbes, Hemispheres, Photo District News, Sierra, Smithsonian, and Sunset, and in books such as San Francisco: The City's Sights and Secrets (Chronicle Books), The World of Shorebirds (Sierra Club Books), and Cape Cod on My Mind (Falcon Publishing). David is an avid walker, birder, kayaker, and cyclist.