Halsted Plays Himself, expanded edition (Semiotext(e) / Native Agents) (Hardcover)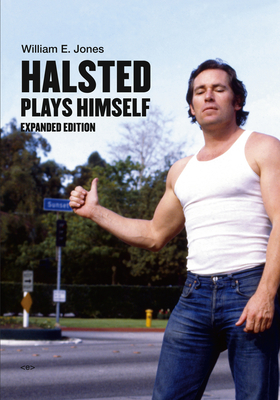 $27.95

usually available in 3-5 business days
Description
---
The life, times, and mysteries of Fred Halsted, gay porn's first film auteur, in a new, updated, and expanded edition.

Fred Halsted's L.A. Plays Itself (1972) was gay porn's first masterpiece: a sexually explicit, autobiographical, experimental film whose New York screening left even Salvador Dalí repeatedly muttering "new information for me." Halsted, a self-taught filmmaker, shot the film over a period of three years in a now-vanished Los Angeles, a city at once rural and sleazy. Although his cultural notoriety at one point equaled that of Kenneth Anger or Jack Smith, Halsted's star waned in the 1980s with the emergence of a more commercial gay porn industry. After the death from AIDS of his long-time partner, lover, spouse (and tormentor) Joey Yale in 1986, Halsted committed suicide in 1989. In Halsted Plays Himself, acclaimed artist and filmmaker William E. Jones documents his quest to capture the elusive public and private personas of Halsted—to zero in on an identity riddled with contradictions. Jones assembles a narrative of a long-gone gay lifestyle and an extinct Hollywood underground, when independent films were still possible, and the boundary between experimental and pornographic was not yet established. The book also depicts what sexual liberation looked like at a volatile point in time—and what it looked like when it collapsed.

The revised and expanded edition of Halsted Plays Himself includes material that came to light since the book's first publication, including details about the restoration of Halsted's films by the Museum of Modern Art, the true identities of several key figures in his life, new testimony from family members, and the rediscovery of his feature film Truck It (1973), previously considered lost.
About the Author
---
William E. Jones is an artist and filmmaker who teaches film history at the Art Center College of Design in Pasadena. He has made two feature-length experimental films, Massillon (1991) and Finished (1997), several short videos, including The Fall of Communism as Seen in Gay Pornography (1998), the feature-length documentary Is It Really So Strange? (2004), and many video installations. His films and videos were the subject of retrospectives at Tate Modern, London, in 2005, and at Anthology Film Archives, New York, in 2010. He has worked in the adult video industry under the name Hudson Wilcox.