The Car: The Rise and Fall of the Machine that Made the Modern World (Paperback)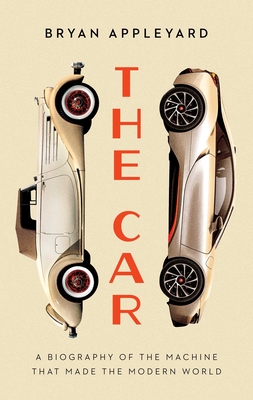 Description
---
A spirited, insightful exploration of our favorite machine and it's cultural impact on society over the past one hundred and fifty years.

More than any other technology, cars have transformed American popular culture. Cars have created vast wealth as well as novel dreams of freedom and mobility. They have transformed our sense of distance and made the world infinitely more available to our eyes and our imaginations. They have inspired cinema, music, and literature; they have, by their need for roads, bridges, filling stations, huge factories and global supply chains, re-engineered the world. Almost everything we now need, want, imagine, or aspire to assumes the existence of cars in all their limitless power and their complex systems of meanings.

This book celebrates the immense drama and beauty of the car, of the genius embodied in the Ford Model T, of the glory of the brilliant-red Mercedes Benz S-Class made by workers for Nelson Mandela on his release from prison, of Kanye West's 'chopped' Maybach, of the salvation of the Volkswagen Beetle by Major Ivan Hirst, of Elvis Presley's 100 Cadillacs, of the Rolls-Royce Silver Ghost and the BMC Mini and even of that harbinger of the end—the Tesla Model S and its creator Elon Musk.

As the age of the car as we know it comes to an end, Bryan Appleyard's brilliantly insightful book tells the story of the rise and fall of the incredible machine that made the modern world what it is today.
About the Author
---
Bryan Appleyard was educated at King's College, Cambridge. He was Financial News Editor and Deputy Arts Editor at The Times of London and has subsequently written for the New York Times, Vanity Fair, the Spectator, and the New Statesman. He has been Feature Writer of the Year three times at the British Press Awards. In the 2019, he was appointed Commander of the British Empire for services to the arts and journalism. He lives in England.
Praise For…
---
"Bryan Appleyard has written an important account of automotive history. This book is beautifully restrained, yet manages to communicate a wealth of fascinating information."
— Jonathan Kellerman

"The Car: The Rise and Fall of the Machine That Made the Modern World is an encyclopedic retrospective of how the car came to be, how it has evolved over the past century and how, as the subtitle suggests, it has shaped the world we live in."
— Wall Street Journal

"A delightfully meandering romp through key milestones in the development of the automobile, and the repercussions that it has wrought—both amazing and horrific."
— Car and Driver Magazine

"The car has totally changed our society. Bryan Appleyard is just the writer to get to the heart of this phenomenon."
— Melvyn Bragg, host of BBC Radio 4's "In Our Time

"As cars undergo their latest electro-smart evolution, Bryan Appleyard's extraordinary cultural history of them explains how they changed our everyday experience. This is a brilliantly written and thoughtful account of the machines that made our lives recognizably modern."
— Michael Burleigh, author of Day of the Assassins and Sacred Causes: The Clash of Religion and Politics

"An entertaining and superbly researched story about the industrial age's most astonishing and enchanting creation."
— Gavin Green, Car Magazine

"Very few people could do justice to this extraordinary story—and with this book Bryan Appleyard sets the bar impossibly high for anyone else."
— Rory Sutherland, author of Transport for Humans and Alchemy: The Surprising Power of Ideas that Don't Make Sense

"This fond look at the history, development and significance of the automobile is supercharged by wonderful writing... As sharply as he draws portraits of the key players, Appleyard, one of the liveliest minds in journalism, is at his most acute when musing on the cultural effects of the car."


— The Observer

"Bryan Appleyard is well known to readers as a thoughtful interpreter of our frets and anxieties... a thinking man's Clarkson."


— The Spectator (UK)

"This engaging history of the motor car is full of rich anecdotes and detail."


— The Sunday Times