So Close to Freedom: A World War II Story of Peril and Betrayal in the Pyrenees (Hardcover)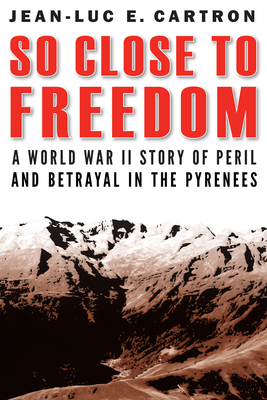 $29.95

usually available in 3-5 business days
Description
---
During World War II many escape-line organizations contributed to the Allied cause by funneling hundreds of servicemen trapped behind enemy lines out of occupied Europe. As the Germans tightened their noose around the escape lines and infiltrated them, the risk of discovery only grew for the servicemen who, in ever-increasing numbers, needed safe passage across the Pyrenees. In early 1944 two important escape-line organizations operated in Toulouse in southwestern France, handing over many fugitives to French passeur Jean-Louis Bazerque ("Charbonnier"). Along with several of his successful missions, Charbonnier's only failure as a passeur is recounted in gripping detail in So Close to Freedom.

This riveting story recounts how Charbonnier tried to guide a large group of fugitives—most of them downed Allied airmen, along with a French priest, two doctors, a Belgian Olympic skater, and others—to freedom across the Pyrenees. Tragically, they were discovered by German mountain troopers just shy of the Spanish border. Jean-Luc E. Cartron offers the first detailed account of what happened, showing how Charbonnier operated, his ties with "the Françoise" (previously "Pat O'Leary") escape-line organization, and how the group was betrayed and by whom. So Close to Freedom sheds light not only on the complex and precarious work of escape lines but also on the concrete, nerve-racking experiences of the airmen and those helping them. It shows the desperation of all those seeking passage to Spain, the myriad dangers they faced, and the lengths they would go to in order to survive.
  Purchase the audio edition.
About the Author
---
Jean-Luc E. Cartron is an adjunct research assistant professor of biology at the University of New Mexico. He is the editor or coauthor of several books, including a biography of his grandfather, a prominent member of the Resistance in western France during World War II.
 
Praise For…
---
"
So Close to Freedom
sheds a new light on an area of World War II that is challenged by limited documentation and historical resources. More so, this books goes beyond the interest of historians. Service members who want to add to their knowledge of survival, evasion, resistance, and escape will find this an essential addition exemplifying the need for a cool head, nerves of steel, and a little luck."—Ronald T. Staver, 
Military Review
"So Close to Freedom is a good read, well written, about a small part of the large, and complex history of the Resistance, as will prove rewarding reading for anyone interested in the Resistance or escape and evasion."—A. A. Nofi, Strategy Page
"Hundreds of Allied evaders achieved freedom thanks to the selfless dedication, courage, and sacrifice—often at mortal cost—of those who put together and managed all that was needed. This is the basis for Jean-Luc Cartron's impeccably researched book. It deserves to take its place among the finest historical accounts of that tragic time."—Evelyn Le Chene, author of
Silent Heroes: The Bravery and Devotion of Animals in War