Jerry Thomas Bartenders Guide 1887 Reprint (Paperback)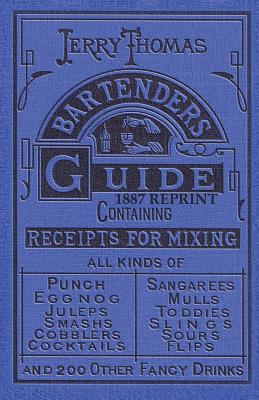 $7.77

usually available in 3-7 days
Description
---
Unabridged reproduction of the 1887 Jerry Thomas Bartenders Guide with a new introduction by Ross Bolton. This book in its various reprints is accepted to be the first real cocktail book, and includes such classics as Mint Julep and the Daisy.
It was first known as "How to Mix Drinks," or the "Bon Vivant's Companion" and published in 1862 with "A Manual for the Manufacture of Cordials, Liquors, Fancy Syrups, etc." by Christian Schultz attached at the back.
This 132 page, blue cover 1887 edition of "Jerry Thomas Bartenders Guide 1887 Reprint" is best available as the Jerry Thomas Bartenders Guide 1862 edition has over 100 pages on the distillation of Liquors, which was condensed by the original 1887 publishers into only the useful information in the 1887 edition here. Also, this Jerry Thomas Bartenders Guide 1887 edition has Manhattan, Tom Collins, and Martinez (Martini precursor), which are not in the 1862.
Originals of any of the above Jerry Thomas editions in just about any condition have been fetching over $400, so enjoy this inexpensive reprint and spend your savings in studious enjoyment