Moon Japan: Plan Your Trip, Avoid the Crowds, and Experience the Real Japan (Travel Guide) (Paperback)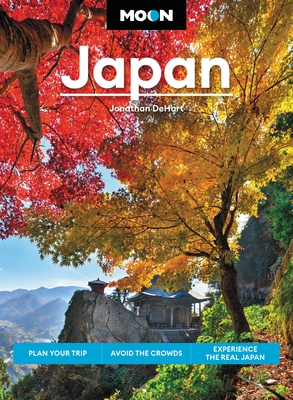 Description
---
From the world's busiest intersection to the most serene hot springs, modernity and tradition mingle in Japan. Experience the natural wonder and rich culture of a country unlike any other with Moon Japan. Inside you'll find:
Flexible itineraries including a two week 'Best of Japan' and a week in and around Tokyo
The top sights and unique experiences: Wander the shrines and temples of Ueno-koen park and stop in Tokyo National Museum for world-renowned Japanese art. Learn about samurai heritage in Sanmachi Suji or zazen meditation at the Buddhist temples of Kyoto, and get an unforgettable lesson in 20th century history at Hiroshima Peace Memorial Park
Outdoor adventures: Hike the trails of Mt. Fuji or the river-filled valley of Kamikochi and relax in a communal onsen hot spring. Ski or snowboard at a world-class resort, surf in the Pacific off the coast of Shikoku, or dive along the coral reefs of Okinawa
The best local flavors: Feast on ramen or an elaborate spread of sushi, sample fresh seafood at the world's largest fish market in Tokyo, and drink your way through the famed beer scene in Sapporo
Honest insight from American expat and longtime Tokyo local Jonathan DeHart
Full-color, vibrant photos throughout
Detailed maps and useful tips for navigating public transportation
Focused coverage of Tokyo, Mt. Fuji, Kanazawa, Kyoto, Kansai, Hiroshima and Miyajima, Okinawa, Tohoku and Hokkaido, Shikoku and Kyushu, and more
Helpful resources on Covid-19 and traveling to Japan
Thorough background information on the landscape, wildlife, history, government, and culture
Handy tools including health and safety tips, customs and conduct, and information for LGBTQ, female, and senior travelers, as well as families and travelers with disabilities
With Moon's practical advice and insider tips, you can experience the best of Japan.
Just exploring the major cities? Check out
Moon Tokyo, Kyoto & Hiroshima
.
About Moon Travel Guides:
Moon was founded in 1973 to empower independent, active, and conscious travel. We prioritize local businesses, outdoor recreation, and traveling strategically and sustainably. Moon Travel Guides are written by local, expert authors with great stories to tell—and they can't wait to share their favorite places with you.
For more inspiration, follow @moonguides on social media.
About the Author
---
Jonathan DeHart is a Tokyo-based journalist and editor who first came to Japan at the impressionable age of 21 to study the language. He writes primarily about culture and social trends in Asia. With more than 500 published articles, his work has been selected for various "best of" lists by The Washington Post, The Atlantic, The Huffington Post, Foreign Policy and Real Clear World. He previously worked for both print and online media in Shanghai.
Praise For…
---
"Moon handbooks are always a pleasure to read. The writing is crisp, the research impressive, and the recommendations practical and down to earth."—Chicago Tribune

"The books are more easily readable than other guides. The main attractions are also marked with a special icon and sidebars and boxes highlight special information, making the Moon handbooks one of the most user-friendly guides in terms of visual appeal and organization…the quality is uniformly excellent."—Transitions Abroad

"Far from narrow minded, each Moon travel guide gives itinerary options for a variety of travelers' budgets—from frugal to lavish. They make books catering to those who love the outdoors, those who have limited time, those staying exclusively in cities and those who've fully committed to living abroad. In all, they have hundreds of titles, ranging Bermuda to Budapest, that'll teach you to embrace a new culture."—Gear Patrol, "The Best Travel Guidebooks for Every Journey"

"Moon handbooks have become known as well-written and exceptionally informative guides."—The New York Times

"Moon guides are perfect for the relaxed road tripper or outdoor explorer."—No Small Plan

"Moon handbooks are known for cannily combining logistical information with cultural background of a country or state."—Los Angeles Times