Workbenches (Paperback)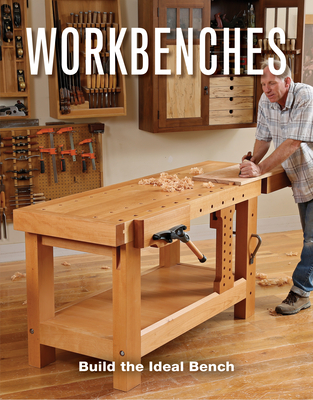 $29.99

usually available in 3-5 business days
Description
---
A good, sturdy workbench is at the heart of any woodshop, and every woodworker needs one to hold and support work for everything from stock preparation to finishing. This selection of articles from Fine Woodworking magazine gives woodworkers all the advice they need, whether considering a starter model, a small bench, or a full-scale workbench that will last for decades.
Workbenches featured include a classic Shaker bench, a basic bench with built-in storage, and a mini-bench that has all the features of a full-size bench. Besides the bench itself, woodworkers also need accessories to hold workpieces on the benchtop for planing, chiseling, sawing, and many other tasks, using vises and wooden clamps, bench hooks and saw hooks, holdfasts and handscrews.
Chapters on tool storage, workbench tips, and techniques at the bench round out the collection for a complete guide to the workbench.
With such a wide range of workbenches and workbench accessories represented, this book will appeal to all woodworkers from newbies just setting up shop to veterans looking to upgrade their current workbench.