Say I'm Dead: A Family Memoir of Race, Secrets, and Love (Hardcover)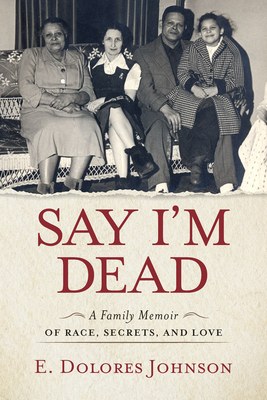 $28.99
usually available in 3-7 days
Description
---
Say I'm Dead is the true story of family secrets, separation, courage, and trans-formation through five generations of interracial relationships. Fearful of prison time—or lynching—for violating Indiana's antimiscegenation laws in the 1940s, E. Dolores Johnson's black father and white mother fled Indianapolis to secretly marry in Buffalo, New York. 

When Johnson was born, social norms and her government-issued birth certificate said she was Negro, nullifying her mother's white blood in her identity. Later, as a Harvard-educated business executive feeling too far from her black roots, she searched her father's black genealogy. But in the process, Johnson suddenly realized that her mother's whole white family was—and always had been—missing. When she began to pry, her mother's 36-year-old secret spilled out. Her mother had simply vanished from Indiana, evading an FBI and police search that had ended with the conclusion that she had been the victim of foul play. 
About the Author
---
E. Dolores Johnson's writing focuses on the evolution of attitudes on interracial relationships through American history, with an eye to the accelerating browning of America's future. She has written for Narratively, Buffalo News, Lunch Ticket, The Writer of Color Anthology: Boundaries and Borders and Pangyrus, among others. Johnson has consulted on diversity for universities, major corporations, and nonprofits and has served as a panelist for the Harvard Faculty Seminar on Inter-racialism.
Praise For…
---
"Powerfully important and deeply moving, Say I'm Dead is a story of race, family, and identity. Dolores Johnson is the daughter of a black man and a white woman—but how and why it took her years to realize that, and to unearth the secrets that defined her family along the way, testifies to the complicated his-tory of race relations in America. Johnson lived the changes our country has gone through and continues to wrestle with, and her story will both inspire and educate." —
Alex Marzano-Lesnevich
, author of
The Fact of a Body: A Murder and a Memoir
"Say I'm Dead is not only a candid, compelling, and ultimately hopeful story of one woman's quest to understand her family and herself through the lens of identity, it is also the story of an American identity riddled with secrets, lies, grievance, and thinly veiled shame. In telling her own alternately painful and exhilarating history, E. Dolores Johnson is subtly asking us all to turn the mirror on ourselves." —Christopher Castellani, author of Leading Men
"Say I'm Dead is a beautiful and probing family history of a woman's deep secret: she left behind her White family in 1940s Indiana to marry a Black man in New York. Decades before the Loving v. Virginia Supreme Court case overturned anti-miscegenation laws, Ella and Charles affirmed Du Bois's prescient theory that the problem of the twentieth century was indeed the problem of the color line. Their mixed-race daughter lives on the color line, a Black woman who comes to question her White background. This compelling story with related themes of race, class, education, and history furthers the exigent discussions of biraciality in the United States."
—Dr. Donavan L. Ramon, Kentucky State University, author of
Betraying Their Colored Descent: Psychoanalysis and Racial Passing
"During the 1940s, it was better to disappear or die than break anti-miscegenation laws. When Dolores wants to search for her White mother's estranged family, 'Say I'm dead,' is what her mother tells Dolores to say should she find them. The prose is clear, sharp, and insightful, and the writer's quest to find the truth about her family is as gripping as any mystery. Through one family's story, the memoir explores the tragedy of how racism divides us and also how one family moves beyond fear and bias. A must-read memoir for readers interested in a daughter's courageous search for her history, which is inextricably intertwined with the story of race in America."
―Grace Talusan, author of 
The Body Papers
, winner of the Restless Books Prize for New Immigrant Writing in Nonfiction  
"With unflinching honesty, E. Dolores Johnson shares an enthralling story of identity, independence, family, and love. This timely and beautifully written memoir ends on a complicated yet hopeful note, something we need in this time of racial strife."
—De'Shawn Charles Winslow, author of
In West Mills
"With protests since the killing of George Floyd pushing the issue of racial justice to the fore, this timely book tells a Buffalo story with powerful appeal." —
The Buffalo News
"Say I'm Dead is a compelling tale about the legacy of racism in America, family and the power of love."
—WBUR's The ARTery