Habits of a Champion (Paperback)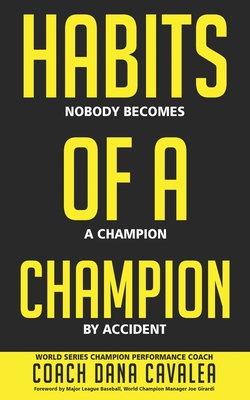 $15.99

usually available in 3-5 business days
Description
---
Coach Dana Cavalea is a highly-sought-after High Performance Coach. He spent the majority of his career as the Director of Performance for the New York Yankees. In 2009, he led the team to a World Series Championship. That year, he was voted by his peers as the top Strength Coach in Major League Baseball, receiving the Nolan Ryan Award. Currently, in addition to working with high-level athletes, coaches, CEOs, and executives, he is an International speaker and consultant helping corporate workforces, sports teams, universities, and other organizations to optimize their overall performance through his 5-Drivers of Performance Framework.
In his first published book, Coach Dana Cavalea shares 15 lessons about what it takes to become a champion. He shares stories and insights from some of the world's top performers in sports, life, and business.
An easy-to-read, funny, attention-grabbing journey on how to take your life and game from average to extraordinary, you will soon find out that achieving your full potential is a lot simpler than you think. Along his journey, Coach has learned that there is no such thing as a Default Champion. It takes work. Not just any kind of work, though--very specific day-to-day work.
This book was written for anyone looking to take their game to the next level. Whether you are a coach looking to lead your team to victory, an athlete looking to maximize on-field performance, a CEO or entrepreneur wanting more out of yourself or your team, or somebody just aspiring to be better today than they were yesterday--this book is for you.
Straight-forward, direct, honest, and goal-oriented--that is what "Habits of a Champion: Nobody Becomes A Champion By Accident" is about. Are you ready to elevate yourself to Champion status?