The Black Prince (Paperback)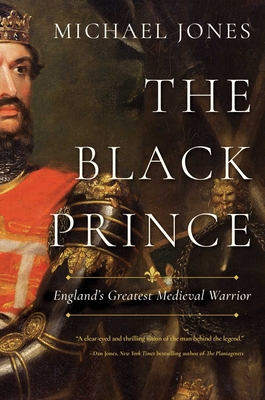 $19.95
usually available in 3-7 days
Description
---
As a child he was given his own suit of armor; at the age of sixteen, he helped defeat the French at Crécy. At Poitiers, in 1356, his victory over King John II of France forced the French into a humiliating surrender that marked the zenith of England's dominance in the Hundred Years War. As lord of Aquitaine, he ruled a vast swathe of territory across the west and southwest of France, holding a magnificent court at Bordeaux that mesmerized the brave but unruly Gascon nobility and drew them like moths to the flame of his cause. He was Edward of Woodstock, eldest son of Edward III, and better known to posterity as "the Black Prince." His military achievements captured the imagination of Europe: heralds and chroniclers called him "the flower of all chivalry" and "the embodiment of all valor." But what was the true nature of the man behind the chivalric myth, and of the violent but pious world in which he lived?
About the Author
---
Michael Jones, author of Bosworth 1485, is a military historian, battlefield tour-guide, and documentary film presenter. He is the co-author of The Women of the Cousins' War and The King's Grave: The Search for Richard III. He lives in England.
Praise For…
---
In his fine biography, Michael Jones resurrects the recumbent warrior, giving a vivid but scholarly portrait of the man extolled by the contemporary chronicler Jean Froissart as 'the very flower of chivalry.' Informed and insightful. Jones makes a convincing argument that in life the Black Prince embodied the chivalric aura that radiates from his splendid effigy.

Jones brings the Middle Ages—and one of England's greatest knights—to life. Thrillingly dives into the 100 Years' War and its shining star, Edward the Black Prince. A strong biography of a man who has inspired great love across the ages—a must for shelves and collections devoted to medieval times.

With a knack for storytelling, Jones describes how England's Edward of Woodstock embodied the idealized chivalrous warrior prince. Jones's accounts of Prince Edward's military prowess shine with clear explanations of military movements and strategy. A strong portrait.

Engaging. History buffs and readers with a penchant for larger-than-life personalities will find this read extremely worthwhile.

The Black Prince is one of the great romantic heroes of the Hundred Years War, and in Michael Jones he has a worthy biographer. This is a clear-eyed and thrilling vision of the man behind the legend and a splendid introduction to one of the most fascinating periods in medieval history.

Michael Jones superbly brings to life the campaigns and battles which made the Black Prince's name. The hero and the villain were one man and Jones does justice to this complexity.

Splendid. Jones convincingly argues that Edward should not be too readily condemned. Written with great skill and lightly worn erudition and sure to enthrall a wide audience.